Massachusetts Working on Wellness
Accessible Joomla Site with Integrated Learning Management System
Working on Wellness helps Massachusetts employers successfully develop, implement and sustain policies and programs that create a supportive work environment and enable employees to engage in healthy behaviors.
They're interactive online curriculum guides businesses through a process, from planning to assessment.  Working on Wellness is a program of the Massachusetts Department of Public Health,  in partnership with Health Resources in Action and Advancing Wellness.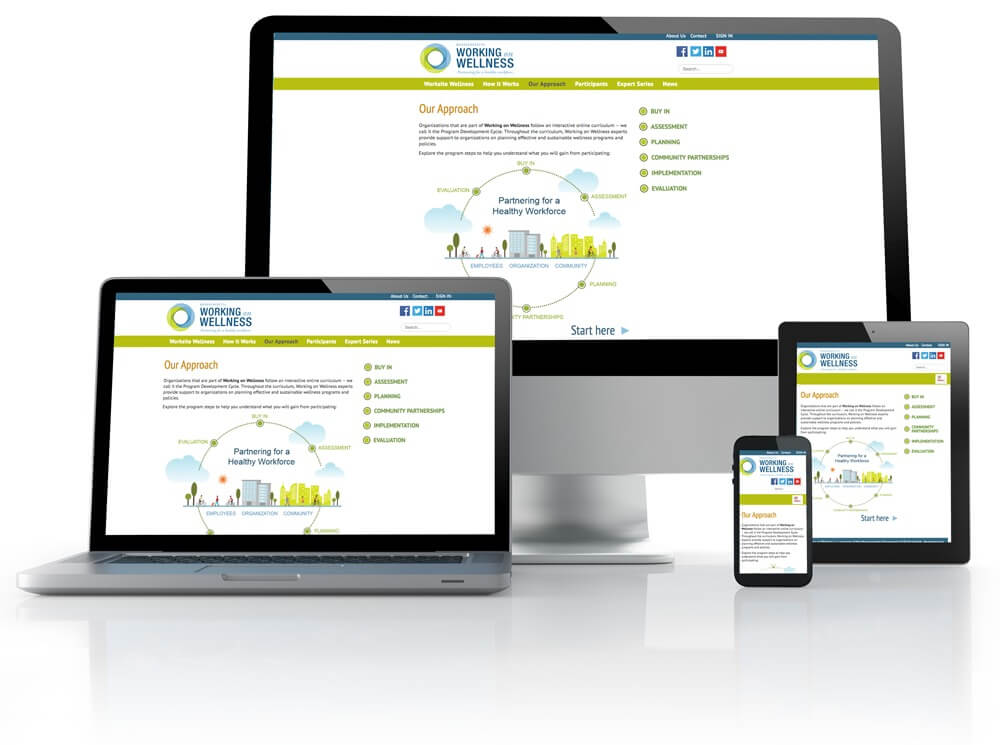 Challenge
The organization was charged with implementing the Working on Wellness program which required a website that was not only responsive, but that complied with Federal web accessibility mandates AND included an integrated LMS (Learning Management System) for program participants.
Strategy
Paragon Digital Marketing held multiple meetings with Working on Wellness stakeholders to refine the public-facing website requirements and also the functionality needed for the private online learning environment. We needed to extract all the requirements that not only met the accessibility requirements but all provided an easy-to-use platform from which the learning could be conducted.
Results
The "easy" part was delivering a design that earned the clients' enthusiastic approval and then coding that design responsively to conform to web accessibility requirements.
The LMS requirements were more challenging. There were only two viable options for a Joomla-friendly LMS component (add-on), but neither was web-accessible without extensive custom-coding. We chose to proceed with the less well-known (and newer) option because of the developer's excellent customer service offerings, including custom-coding services if required. After writing customizations to the LMS, hiring an accessibility expert to test the system, and then creating alternative information-delivery methodologies as needed, we delivered a site that fulfilled all requirements.
We were working under a very tight timeline. We had a vision for our website, but were designing our program, building our brand and recruiting staff while conceptualizing the website. They were thoughtful, patient and supportive as we worked through the web design process. They were very timely and responsive to our needs.
Health Resources in Action