League of NH Craftsmen
For over 85 years, the nonprofit League has promoted fine craft, supported craftspeople, and educated and enriched New Hampshire's communities. Throughout its history, the League has helped craftspeople sell their work, hone their skills, and generate income. More than 750 juried craftspeople produce exceptional contemporary and traditional craft in a wide range of media, from Baskets and Pottery to Printmaking and Wood, from Jewelry and Quilts to Photography and Folk Art.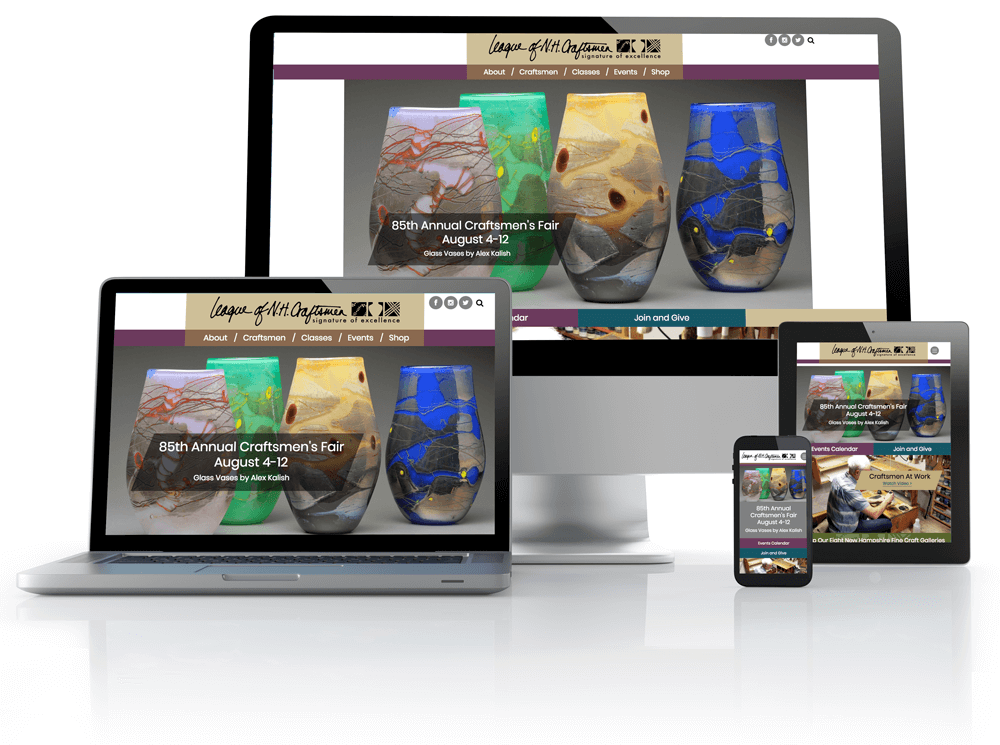 Challenge
As websites age, content and sitemaps tend to expand beyond what is recommended. Supported by a small staff and many volunteers the website did not lend itself to easy updates. There are several websites that encompass all that is viewed as the League. We needed to bring together as much as we could and provide the framework for future enhancements. Juried Member data is kept in an in-house database but needed to be displayed on the website in a more consumable format. The small staff needed a simpler solution to maintain this functionality. Lastly, they needed a succinct solution that would display not only all of the Juried Members, the Grodin Permanent Collection artwork but also the classes, events and exhibits for all the galleries across the state.
Strategy
We wanted a clean design where visitors could focus on the Juried members and their art but could still find all the answers they needed. It was important to ensure the website would be easy to navigate from all types of devices and offered good accessibility features as well. Close attention was paid to readability and user interaction on the site. We also needed to ensure that this new website would serve the League for many years and that their small staff of employees and volunteers would be able to easily make the updates they needed.
Results
Sullivan Creative provided a design that allowed for easy consumption of information about the Juried Members, Events and the Grodin Permanent Collection. We build a custom-themed WordPress website that integrated with the League's in-house database that houses all of the Juried Member's information. We created custom post-types that display Juried Members by name or media. This same solution was used to create a virtual display of all the items in the Grodin Permanent Collection Museum that is at League headquarters. Lastly we formulated solutions that would display the classes offered at League headquarters and allow for easy marketing of events and exhibitions going on across all the galleries.