Community Health Training Institute
Returning Client Seeks Fresh New Look for their Joomla Site
http://hriainstitute.org/
The Community Health Training Institute (CHTI) trains teams and individuals to build healthier communities throughout Massachusetts. They provide both in-person and online training focused around coalition building, leadership, policy and systems change, communications, health equity, youth development and strategic planning & evaluation.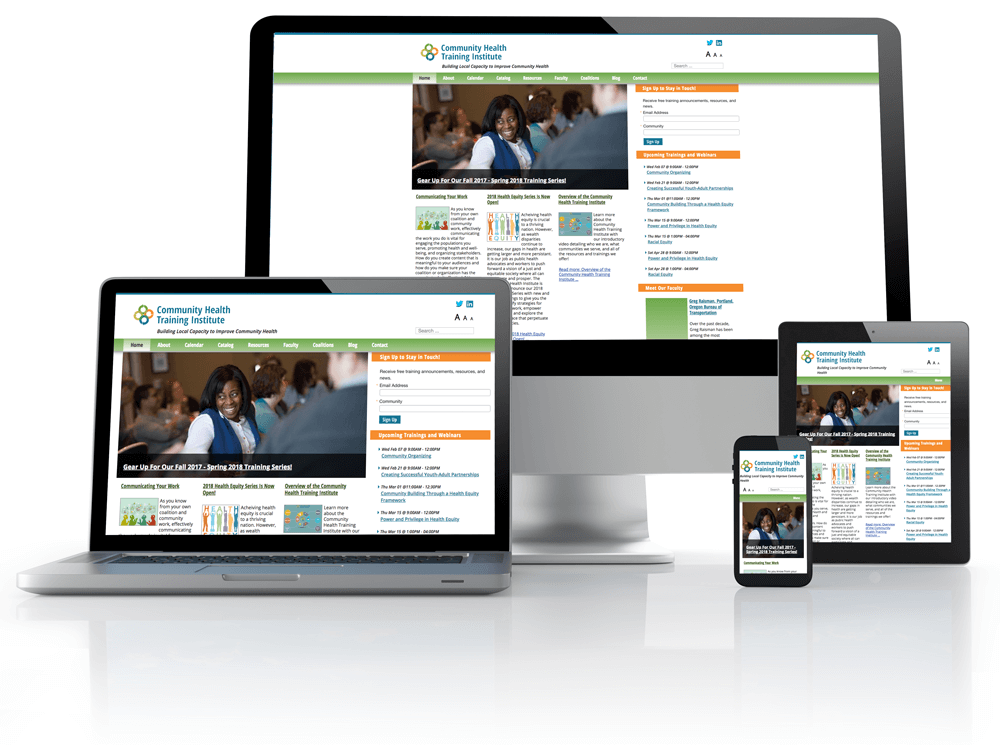 Challenge
In 2013, Boston-based CHTI hired 4Web to develop a responsive website using Joomla for them. They wanted an easy way to showcase their events, group them into categories, and offer easy online registration for these events.
Fast forward two years when their sister organization, Massachusetts Working on Wellness, launched a new website with us — CHTI got a little jealous. They became inspired to hire us again to refresh their website design.
Strategy
Freshening up a site is easy with content management systems like WordPress, Drupal and Joomla. Switching to a new design template is a quick way to get an improved modern look for your site.
In the case of CHTI's website, we widened their site and flattened their design. A wider site allowed us to broaden their slideshow to accommodate larger, more captivating images. Their website header now has a tagline, more prominent search bar and social media links. Other subtler changes included designing a new button style, updating their calendar format and switching to a different font.
Results
All these little tweaks make a big difference. CHTI's returning visitors will notice their fresh design and look around for what else is new. A fresh, easy-to-use and responsive website with great content is the best way to greet new customers. Remember, you only have one chance to make a great first impression.
"We love when clients come back to us with new projects," said Heidi Stanclift, Director of Web Development. "CHTI is great to work with."
Read the Case Study
Everyone we worked with at 4Web was really responsive. They were easy to work with and patient with us because not all of us are real techies. They communicated clearly and they were reassuring—they made us feel confident and self-sufficient. We are really proud of our website.
Project Manager