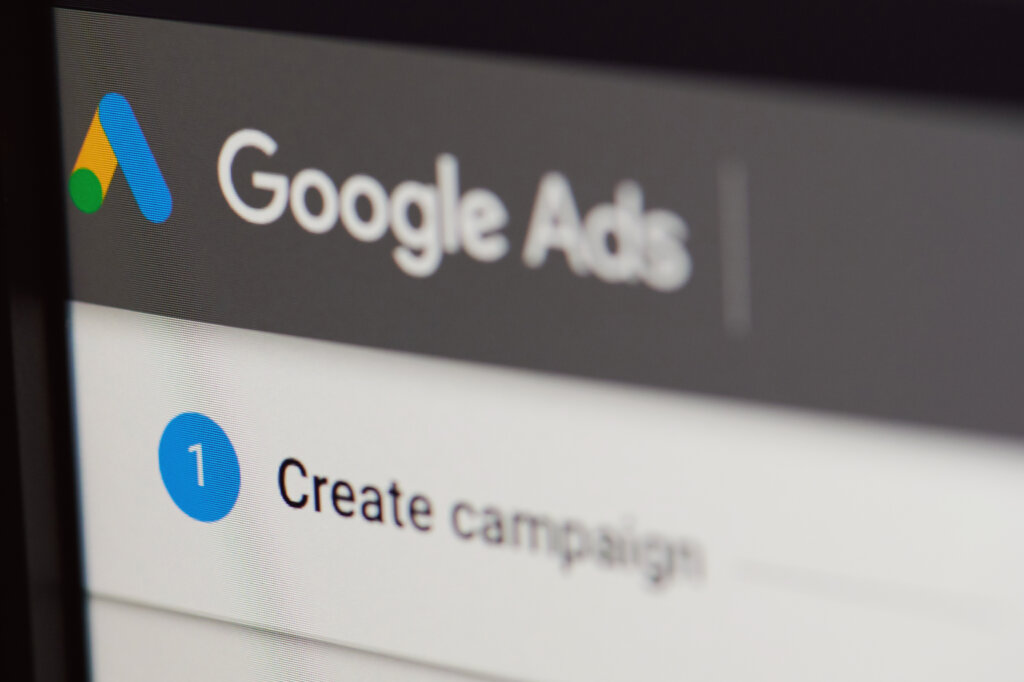 When consumers looking to purchase head online, they head straight to the most popular platform in the world, which is why paid ads on Google get 65% of the clicks. With millions of users each day, Google's pay-per-click (PPC) advertising is a top choice for businesses.
Why Google Ads Extensions Matter
When you're trying to create more visibility online, targeted content is key. Extensions allow you to add tailored details, like keywords, to show the types of services your business provides or additional ways to find you, such as maps or call buttons. Here are some of the biggest benefits:
Maximize the information in your ads.
Take up more "real estate" in search results.
Improve your Quality Score and Ad Rank.
Lower your cost-per-click (CPC) with a better click-through rate (CTR) and Quality Score.
Get more qualified leads and boost conversions.
To create a high-quality ad that results in solid conversions, Google Ads extensions can help. In addition to the targeted information in your PPC ad, extensions deliver further details about your business, ranging from basics like address and phone number to reviews and webpage links.
When you expand your ad in this way, you're more likely to achieve the results you want in an extremely competitive online environment. Check out this guide for more on how Google Ads extensions create reasons for people to click on your business.
Using Ad Extensions
First, there are two main categories of ad extensions, automated or manual. Automated extensions are added by Google where it predicts your ad performance will be improved. There is no setup needed for automated extensions, and they include features like dynamic sitelink extensions and seller ratings extensions. Google does the work for you.
On the other hand, manual extensions are highly customizable and give you the opportunity to enter specific details about your business.
As for cost, there is no added fee for ads extensions and clicks are charged as usual. Since extensions offers more options and relevant ways to improve ads (which are often incomplete without extensions), it's in your best interest to take full advantage.
Where to Start
Beyond manual vs automated, there are several types of ad extensions. Using them successfully comes down to one thing – selecting the right extensions for your business. Consider the following questions before you get started:
Who is the target customer you want to attract?
What is that customer looking for? What do they need to see in an ad?
What are your goals for the ad?
Answering these questions will help you to select the ad extensions that will be the most impactful for your business. This will also help you avoid one of the most common mistakes— applying the wrong extensions to your ad.
For the best results, marketing experts typically suggest using as many appropriate extensions in order to allow Google the ability to test performance and deliver the best user experience. However, you may want to begin with one at a time to gather data, evaluate performance, and make an informed decision before continuing to augment your ads.
Types of Google Ads Extensions with Examples
Those are the basics. So now let's look at the specific types of ad extensions and make note of any that might be a good fit for your business.
Sitelink Extensions
Sitelink extensions take users to specific pages within your website. In ad extensions, they appear beneath the main result link. Using these extensions encourages users to navigate directly to a page on your website that has the information they are looking for, rather than clicking straight to your homepage.
You'll see sitelink extensions used often in brand searches. This is because if someone searches by brand name, there isn't context to why they're searching. If they type in "best pizza near me," it's pretty clear you're looking to order up a pie.
But if they type in "Pizza Hut," they might have a question about the brand, where the restaurant is located, or they might even be looking for employment. The example below highlights the advantages of sitelink extensions in this kind of ad.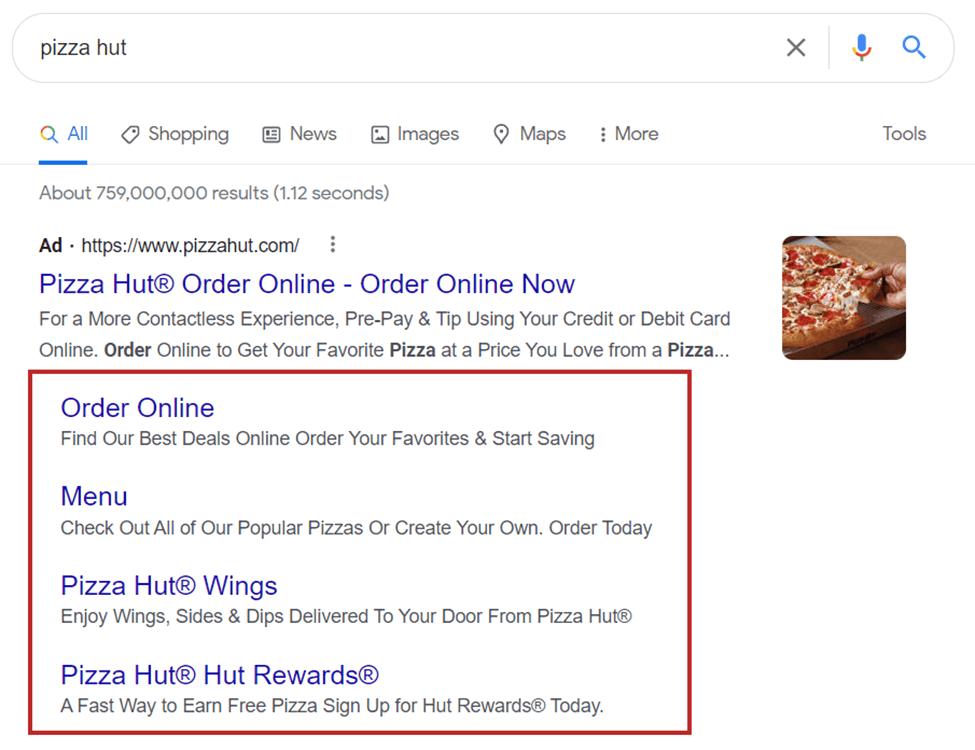 When users are shown a result with sitelinks, they can quickly and easily navigate to the most relevant page. Looking for the menu? Click straight through from this ad.
Sitelink extensions are a best practice for any brand name searches. They can provide fast, easy answers for customers. Other best practices for sitelinks include:
Make sure you have at least six or more active sitelinks. They won't show unless you have two or more, but of course more sitelinks take up more real estate.
If you have several pages on your site, include sitelinks for those that tend to perform the best and those that would be most searched (ex. pricing, feature pages, and contact).
Make sure your sitelink titles describe the page clearly. People avoid ambiguous links.
Extensions should only go to one website – no other domains.
Call Extensions
A call extension adds a button to your ad so users can call your business by clicking on it. When you consider that 88% of searches for local businesses on a mobile device result in the person calling or visiting the business within 24 hours, you get the picture of why a call button might be a great idea.
Consider the things you search for on your mobile phone that result in quick action (ordering food, booking an appointment, etc.). You type in your search and get a handful of business results. How do you choose?
The call button can make a huge difference. When it's right there to click on, you don't have to go searching. The business that has this extension is an obvious choice.
Best practices for this extension include:
Making sure anyone who answers the phone is primed to give an excellent customer experience.
Enabling call reporting to help measure the performance of your ads.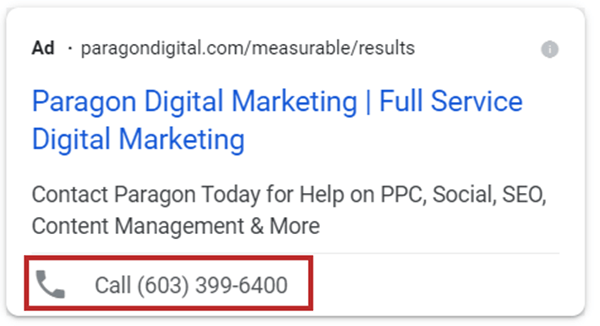 Callout Extensions
The callout extension adds descriptive text that "calls out" key features of your products or services or even special events you want people to notice.
Here are some examples of compelling callouts:
Free 24-hour customer support
Ethically-sourced coffee
Vegan-friendly wine
Tax accounting service
Up to 70% off bedroom furniture
Emergency dental
In essence, callouts describe key reasons why a customer might be looking for your business or why they should choose yours over others. Best practices for callouts include:
Make your 25 characters per callout count! Find the shortest and most specific way to get your message across.
Callouts should have broad appeal. (For example, it's not ideal to use the features of just one of your many products as a callout.)
Look at the example below for inspiration: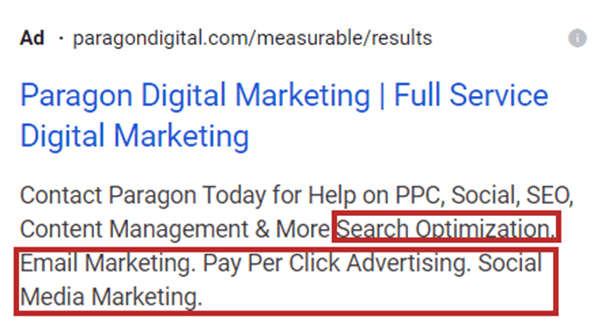 App Extensions
Browsing on an app is often much easier than browsing on a mobile website for users. App extensions allow you to display a link to help people directly download your app from your Google ad.
There are some excellent reasons to encourage this. Native app navigation is easier and leads to more conversions. Various studies have found people are more likely to purchase from an app than a mobile site.
Best practices for app extensions include:
Make sure your app extension links directly to the download in the app store.
Use keywords within the extension.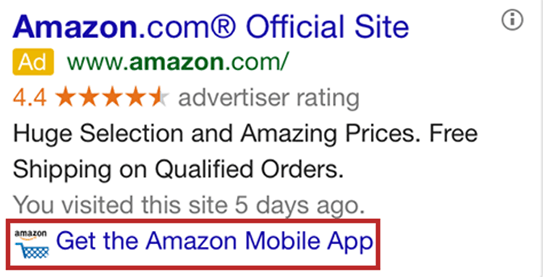 Structured Snippet Extensions
While callout extensions are more "big picture" pieces of information about your business, structured snippets dive into specifics. For example, you might show particular brands, types, categories, locations, amenities and more.
Let's look at the example of a shoe store, which might list brands they stock or shoe types they offer – "dress shoes," "hiking shoes," etc.
Best practices for these kinds of snippets include:
Having a hierarchy based on customer values or priorities.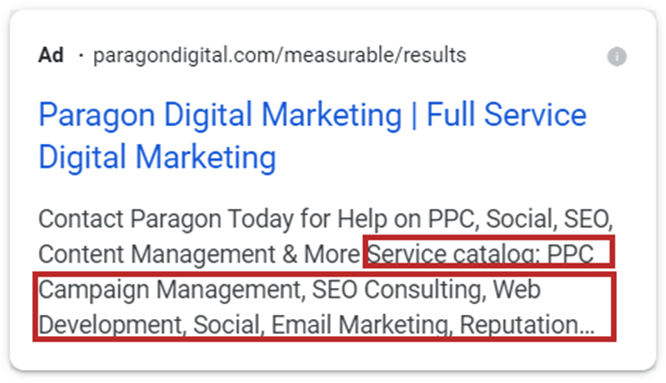 Lead Form Extensions
Lead form extensions allow people to submit their information via a form that's positioned directly in the ad. You can incorporate lead form extensions to Search, Video, Discovery, and Display campaigns. Once users have filled out the form, download and manage leads from Google Ads.
There are multiple fields of information available to capture, including name, email address, city, ZIP code, and phone number. But as with most lead forms, it's best practice to limit how much info you ask for. Narrow it down to what you absolutely need to take the next step with the customer and you're likely to get more leads.

Review Extensions
Anyone who's ever made an online purchase will tell you, reviews really matter. Social proof has repeatedly been proven to bring in business and that's the value behind review extensions.
Review extensions allow you to add a short testimonial to your ad so you can leverage the power of social proof to get more clicks or leads. As a best practice, try to find a short, punchy review that you can attribute to someone reputable.

Location Extensions
Great for brick-and-mortars, location extensions place a business address, phone number and map within your ad text. On mobile phones, clicking on this will take the user directly to the maps app. Any business operating out of a physical location should use this extension, especially a local business.
Here are a couple other important instances to consider. If your business involves you traveling to the consumer, this extension may actually work against you, so consider another option.
However, for businesses that operate primarily online (like tech companies), there could be good reason to use a location extension. Having a physical address indicates that you're a legit company and not hiding behind internet anonymity. That kind of credibility can go a long way.

Affiliate Location Extensions
Do you manufacture products that are sold by authorized affiliates? The affiliate location extension helps send searchers to places where they can purchase your products.
Use this extension to link the stores that stock your products and provide potential customers with options. They may decide to buy online from you or maybe they'll opt for a physical location nearby. Either way, increasing their buying opportunities is a win.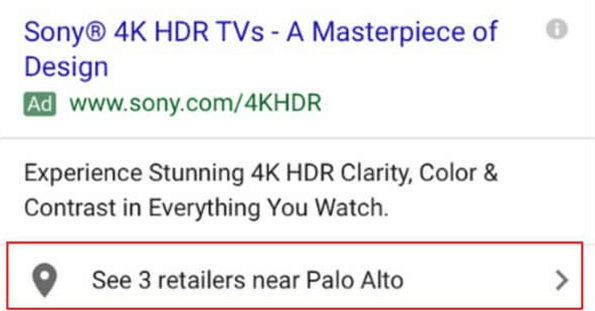 Promotion Extensions
Shoppers are drawn to discounts and special deals, making the promotion extension a great way to boost your Google ads. One of the handy features is that you can put a time limit on it. This helps you to show the right deal at the right time while it is current, rather than having people click to find a sale has ended.
In a potential sea of buying options, positioning your offer upfront on your Google ad can make a serious difference for buyers who are on the fence. Who doesn't love a good deal?

Price Extensions
Price extensions help potential customers make a quick buying decision by informing them upfront about pricing. The extension can also link people to the relevant page on your website where they can learn more about your product or service.
Price extensions appear below text ads and will show a set of up to eight cards with different products and pricing options. They can also appear in a table format.
Need nuanced language? It's possible to use qualifiers in the extension, such as "priced from …" If your business has tiered services or variable pricing, then the price extension is a great fit.

When do extensions show?
It's important to note that extensions, even manual ones, don't show all the time. Google implements them when they're predicted to improve performance and when your ad meets the minimum Ad Rank requirements to show extensions. Just like ads and keywords, manual extensions may be approved or disapproved.
There are some specific factors that influence when Google Ads shows your extensions. These include:
Ad Rank, which combines several elements, including your bid, the quality of your ad and landing page, and the expected impact of extensions
The position of your ad on the Google search results page. Ads in the highest position are given priority for extensions.
Additional extensions you've enabled. Google typically opts for your highest performing and most useful combinations.
Can I set it and forget it?
Like any marketing, it's important to revisit your extensions often for relevancy and to make adjustments based on performance. Be sure to check extensions frequently to update links, special offers, and new products as needed. You may also want to try a different extension or combination of extensions based on your results.
Whatever type of business you own, Google Ads extensions offer a powerful and convenient way to communicate with potential customers. Taking advantage of this free enhancement for your PPC ads is a smart way to make your business to stand out from the rest.
Ready to see improved results with your PPC advertising and ads extensions? Get in touch with Paragon Digital Marketing today.
Read more about PPC: 5 Common PPC Mistakes to Avoid