Drupal eCommerce Website Refresh
https://www.whitneybros.com/
Whitney Brothers, a New Hampshire based company that creates wooden furniture for children to facilitate early education, came to Paragon seeking to create a new Drupal website. They needed a website that provided a seamless eCommerce experience for their customers while embodying their brand, meeting accessibility requirements, and providing an intuitive interface.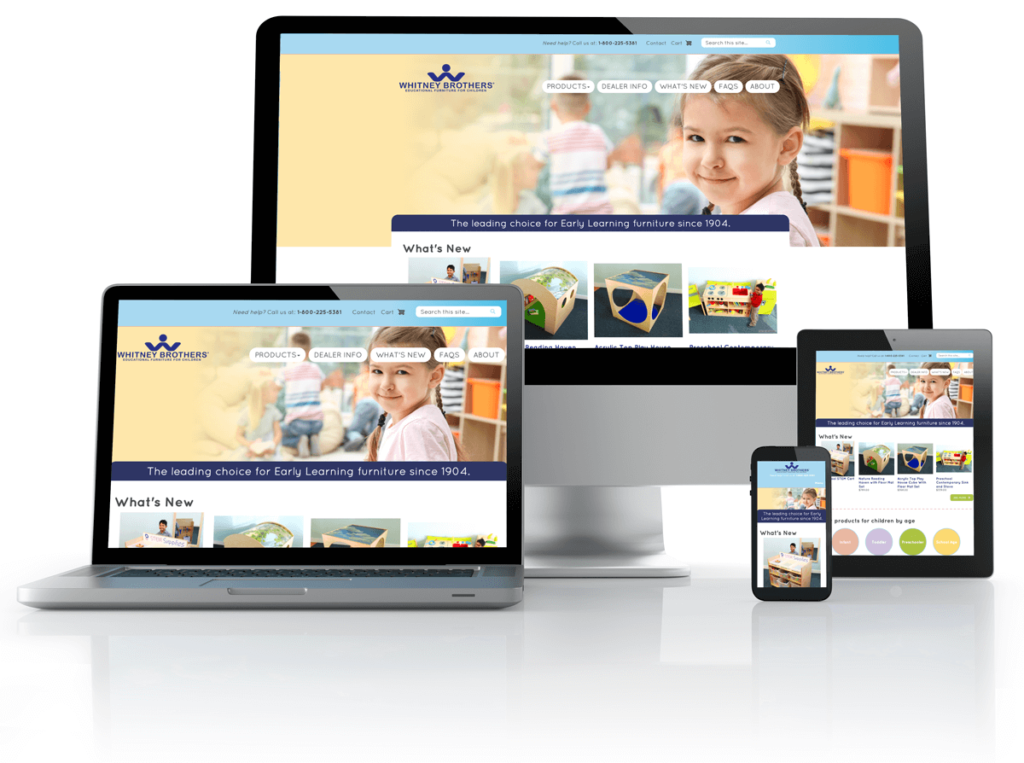 Challenge
When Whitney Brothers came to us, they were using a version of Drupal that was no longer supported, which meant updates and security had become difficult to maintain. Their eCommerce solution was not functioning correctly resulting in customer service and operational issues that needed to be addressed quickly. Online orders were suffering, and revenue was being lost. They needed to improve the design and user interface of their website to align the shopping experience with visitor expectations.
Strategy
First, we needed to select an eCommerce solution to enable simple and effortless online shopping while being secure and accessible on any device. Research in shopper behavior would be used to help organize and present products in a much more customer-centric and streamlined way. Lastly all this would be accomplished while providing a cohesive user interface incorporating their recent brand refresh.
Results
We designed a custom Drupal 8 eCommerce website to fit all their needs. The new Drupal 8 website gives Whitney Brothers' customers a logical, effective, and secure online experience. A faceted search was implemented to allow customers quick and easy discovery of products. ADA compliance ensures that anyone can navigate and make purchases as needed.
Now, both staff and customers utilize the website to find what they require for their children's furniture needs. This solution has resulted in a substantial decrease in website-related customer service calls. In the first year since the new website launched, organic traffic increased by 18% while bounce rates decreased by 20%. More customers are finding Whitney Brothers through search engines and are using the website to find and purchase products once they get there.
We needed a website that promoted our products and our company in the best possible light. Paragon did a great job understanding our needs and guiding us through the website development process. We are very happy with the outcome and the ongoing high-level support they provide.
Whitney Brothers®