WooCommerce Solution for Growing Small Business
https://truenorthgranola.com/
True North Granola is a Vermont-based company that started out by selling their homemade granola at a local farmer's market and has grown into a nationally available granola brand. After years of focusing on the wholesale market, they came to Paragon to increase their retail sales through online sales.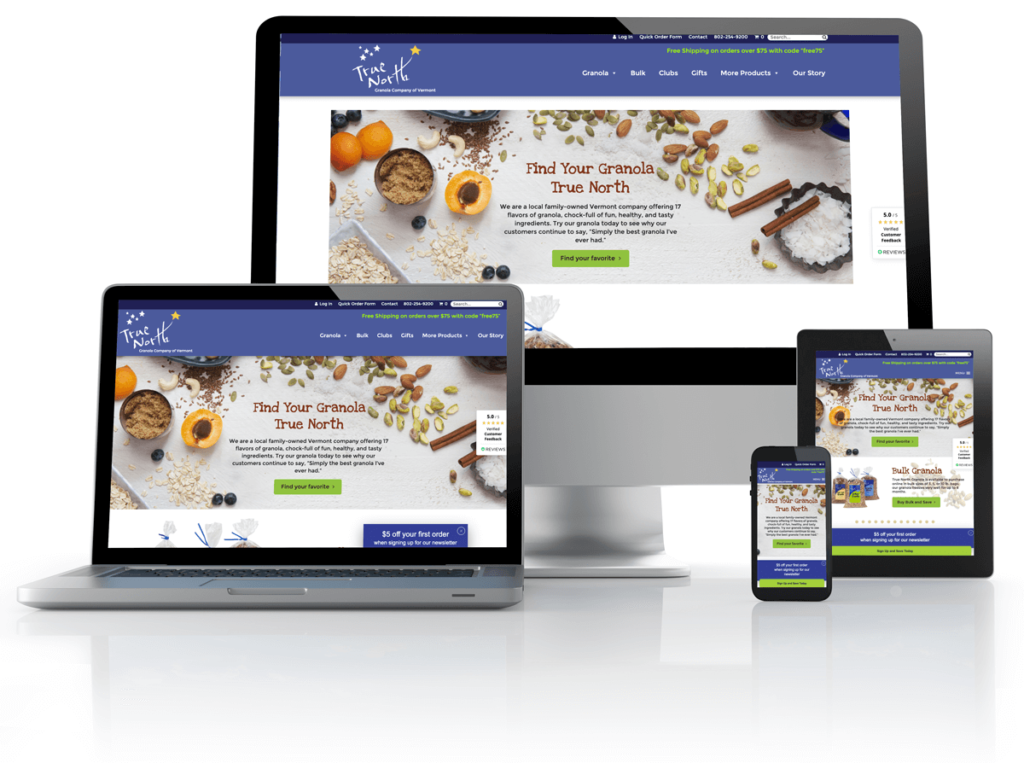 Increase in Mobile Revenue
Reduction in Page Load Times
Increase in Organic Search Impressions
Challenge
Paragon was hired to develop and execute a digital marketing strategy for True North Granola's retail sales but quickly discovered that the current website was hindering those efforts. We conducted user testing that showed customers were struggling to find what they wanted on the site. Heatmapping revealed that the site made it difficult for customers to complete their purchase. There was a need to improve the conversion rate for visitors if True North Granola was going to be successful in the retail space.
Strategy
In order to improve the entire granola buying experience, it was essential to build a website that focused on user interactions. Fast, secure and well-organized sites make visitors happy, and sites that make visitors happy perform better in search results. To convert marketing efforts into sales, they needed a fast website that was ready for digital marketing efforts and allowed customers to easily purchase on any type of device.
Results
Working with our web design team, True North Granola soon had a custom-designed WooCommerce site. User-friendly navigation and a modified site structure now allows consumers to locate and purchase their favorite granola flavors easily. Products were re-organized to make shopping and buying easier on all types of devices. This was paired with a new custom theme that is quick to load and makes visitors happy.
Digital marketing efforts began with an email welcome series for those joining True North's newsletter to engage readers and bring them back to the new website. For remarketing ads, we showcased True North's 5-star reviews to influence sales with social proof. We continue to monitor and optimize for various organic keyword opportunities which have led to over a 20% increase in organic traffic.
Their new website and marketing efforts have seen an increase in retail sales. With the new navigation, customers are now staying on their site longer, which led to a 40% increase in revenue in just 8 months. Mobile revenue more than doubled in the first four months of the website launch. We are continuing to implement digital marketing strategies and website optimizations to help grow business further.
True North Granola has been partnering with Paragon Digital for close to two years, and we have been exceptionally pleased with their customer service, their design capabilities, and their ongoing desire to meet our expectations.  We have worked with Paragon to design and launch an entirely new website with features we were missing in our previous website. It is a beautiful and highly functional website now, something we were clearly missing.   The new features have served to expand the capabilities of our e-commerce tools and increase our online sales by more than 60% over the previous calendar year.  In addition, Paragon has been instrumental in expanding our digital marketing efforts that clearly supported the e-commerce increase in sales. We have an ongoing relationship with Paragon and won't hesitate to contract for future work.
Founding Owner, True North Granola