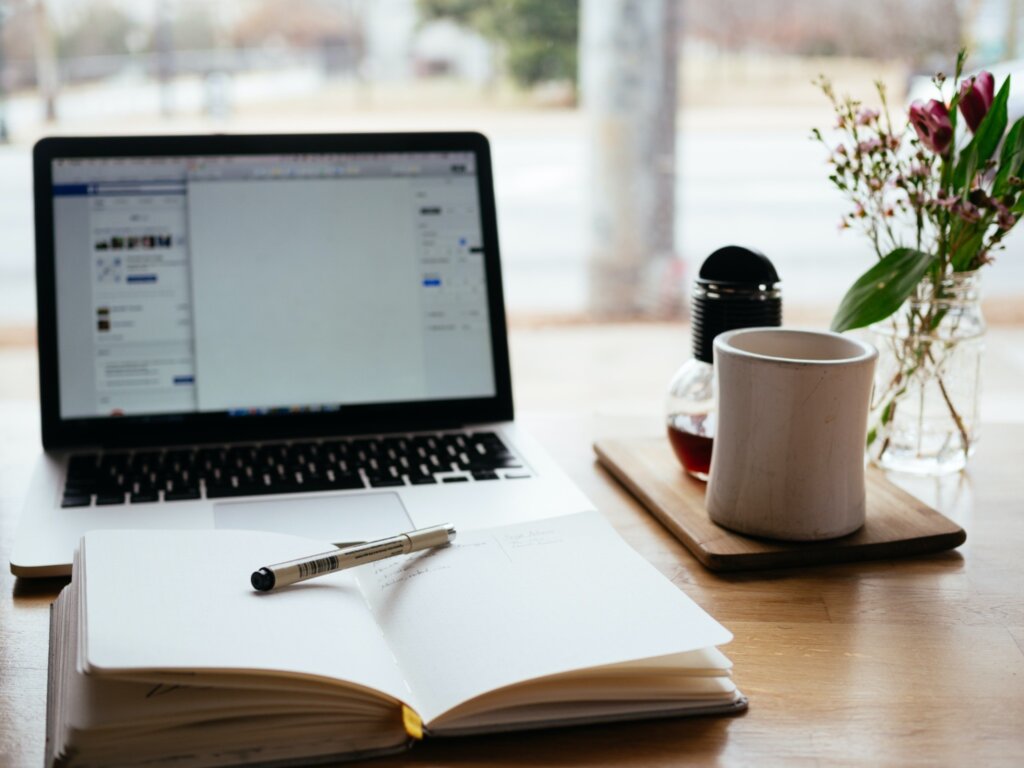 Lead generation application provider OptinMonster's recent data roundup revealed that 63% of businesses don't have a documented content strategy, and 64% of marketers want to build a better content strategy. Content strategy can prove to be your advantage over competitors who either don't have one or have a weak strategy.
As a relatively mature strategy, content marketing can be used to reach customers and deliver value at the same time. When used effectively, it can also demonstrate your company's expertise while helping to answer important questions in your prospect's minds.
Content strategy refers to the planning, creation, and delivery of content. Your content strategy can represent a tremendous opportunity to improve your business results and reach more of your ideal customers. It's worth investing the time and effort into developing your strategy so you can hit your goals and create engaging, relevant content for your audience.
On the flip side, poorly thought-out content can do more harm than good. Marketers need to map out strategy and content standards so that messaging remains consistent.
This guide will help you prepare an effective content strategy and deliver great business results.
Why content strategy is worthwhile
The core idea behind content marketing is that it's an excellent tool for inbound marketing. What is inbound marketing? It refers to strategies that pull your audience in, which is typically a more natural way to get their attention. For instance, someone might perform a Google search for exercise bike comparisons and come across your blog covering the best options available today, thereby answering their questions and establishing trust. As a result, you may have just gained yourself a new customer!
Alternatively, outbound marketing refers to strategies that are more intrusive to your audience. Outbound methods push marketing out at customers and interrupt them. Some examples include emails, cold calling, and various forms of advertising.
While outbound marketing can still be effective, there is evidence showing that it's not as effective as it used to be. Brian Halligan talks about this in a piece for Hubspot. On average, people see 2,000 outbound marketing interruptions per day, and we're getting much better at blocking them out. We often naturally skip over advertising and also use technology such as ad blockers for those we can't naturally skip over.
What about content marketing? OptinMonster put together a few key statistics:
72% of marketers say content marketing increases engagement
94% of consumers plan to purchase from a business they follow
In terms of reach, 77% of US adults go online daily
The bottom line here is that content marketing is worthwhile, but…
What about content strategy?
Having a developed content strategy is important as it guides everything that you do, from what you create to how you create it and where you publish it.
A documented content strategy helps you to present a consistent front across your content. It also helps you figure out the best content to create and where to put it by answering some key questions. For example:
Who exactly do you need to reach? (Look at your buyer personas).
What questions are they trying to answer?
What problems can you help them solve?
Why are you disseminating content?
What are your goals?
What content topics will you have?
What types of content will you publish?
Where will you publish the content?
Who will create the content?
What resources do you need for content creation?
What is your content schedule?
Without answering these key questions, content can lack purpose and cohesiveness and not be produced on any real schedule, causing quality to suffer and the messaging to be inconsistent. Businesses without a good content strategy often don't go much beyond, "we should publish stuff on our blog." You should look at a documented strategy as the recipe you follow to successfully use content marketing. It's up to you to add the ingredients.
63% of businesses don't have a content marketing strategy.
Click To Tweet
How to identify the right type of content for your audience
First of all, a content strategy should look at your key business goals, then examine how content can be used as a medium to help achieve those goals. If a major goal is to achieve better awareness for your brand, you can look at how content helps to achieve that. For instance, you might develop content to improve your presence in search results for terms your audience is searching on in search engines.
Good content will be focused on fulfilling a customer need and helping them solve a problem or answer a question. By helping to educate the consumers of your content you have an opportunity to establish yourself as a content expert. Don't make the mistake of trying to directly sell a product or service, instead focus on getting to know your customers ahead of time and then creating and providing content that helps them achieve their goals.
Some other key points for your content strategy include:
Knowing your audience
Create a detailed picture of who you're targeting so that you can more easily determine how best to reach them. Identifying your buyer personas will give you a few key clues to identifying the right type of content, such as:
What type of media does the buyer consume? Do they read blog posts, watch videos, or listen to podcasts? Do they prefer in-depth content or bite-sized chunks they can consume quickly? (Note: You can get some great information from market research companies such as Pew Research and SparkToro on demographic breakdowns of who uses social media channels and other online platforms).
Where does the buyer go to find information that helps them with their problems or goals? Do they use social media? Which channels? What do they read and where is it?
Who do they admire (brands or individuals) in the content space?
What sort of voice and tone will resonate with your audience?
If you're starting fresh with a new audience, it's important to go through all the steps to clearly define your buyer persona first. If you already have buyer personas, it's still a good idea to re-examine them. Has anything changed?
Mapping your content to the buyer's journey
The buyer's journey is an important part of an effective content strategy. This describes the pathway or journey a customer takes from becoming aware of your business to deciding to make a purchase.
This is significant to your content strategy because different content will be more or less suitable for different stages of the buyer's journey, and it's important create content for each (shown below). You don't want to have all of your content centered around the awareness phase, but nothing for the consideration or decision phases.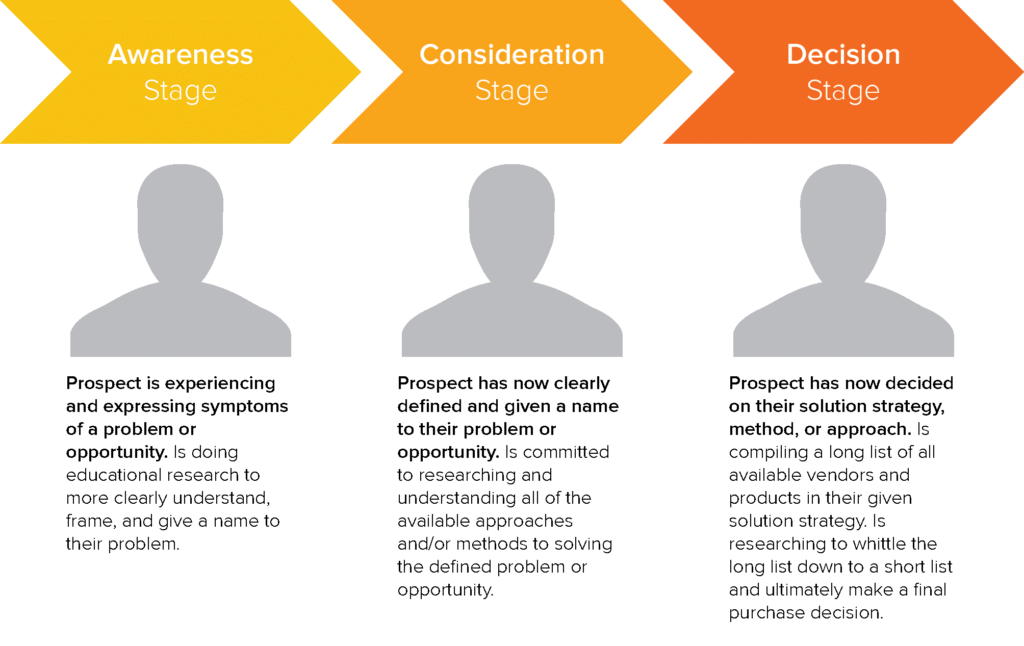 Awareness stage
The goal of your content at the awareness stage is to clearly define and draw attention to the problem or opportunity presented to the buyer, and show that your business understands it. You want buyers to pause and say "Hey, that sounds like me!"
Typical content could include blog posts that target the problem or opportunity; checklists or quizzes that help people identify their problem or opportunity; and short white papers that go a little more in-depth.
Consideration stage
The goal of content for the consideration stage is to highlight the options customers have to solve their problem or to help their opportunity (including products or services that you sell). Typically, you're not going in heavy on a sales pitch, but you're taking a step back to offer options. You might go into the pros and cons of each while highlighting who each option is best suited to.
Some types of content include blog posts or videos that highlight and compare options, testimonials, and webinars.
Decision stage
The goal of content for the decision stage is to ensure the buyer chooses your solution over the competition. Persuade the buyer that what you offer is the very best solution.
Some typical content for this stage includes free demos or trials, comparison charts, and coupon or discount offers for new customers.
How does your existing content fit into the buyer's journey?
Do you already have existing content? It can be worthwhile to do a content audit, where you check into exactly what you have and which part of the buyer's journey it falls into. At the same time, look critically at the content with an eye toward your target audience. Is the quality where you need it? What about the tone and messaging?
Another helpful resource that can provide you with data is your analytics. Look for any content that has been the most popular and start with those pieces for improvement.
What new content do you need?
What gaps have you identified through your content audit? Ideally, you should have a good spread of content across different stages of the funnel. Consider using a content calendar so that you can more easily plan and publish consistent content across each stage of the funnel. This is just one of the best practices for effective content marketing – we've got more coming next!
Content marketing best practices
There are some best practices that the most successful content marketers tend to follow. Here are just a few of those:
Create content guidelines
Who will be creating the content? For most businesses, it will either be people within their marketing team, business owners, or third parties hired outside of the organization. Many businesses use a mix of sources to create their content, and one way to ensure consistency is to document a set of guidelines.
Guidelines can include things like:
Defining your voice and tone.
Defining the sort of language that is acceptable (or not)
How to format written content (e.g., a template everyone can follow)
Guidelines around sources of information or links
Guidelines for use of images.
Basic rules should always include correct spelling and grammar. Anything less tends to look unprofessional for businesses and can turn people off.
Leverage data
Good quality data can help you understand your audience better and deliver more of what they would like. Use sources such as Google Analytics to gauge audience behavior with your content, and qualitative data such as comments or feedback as well.
Your content strategy should include a regular program of reporting and analyzing your content results. It's the only reliable way to make effective improvements.
Always deliver value
Content for content's sake is never a good strategy. Inevitably quality will slip and so will the value of your content for your audience. If that happens it's a short step to losing them altogether.
Valuable content can provide you with a competitive advantage over others. Have a goal or purpose for everything that you publish and always put your audience first. This is how you can ensure you maintain value.
Try multichannel marketing
Most of the best content marketers are on several different channels, all chosen to help them reach their target audience. It's a great way to get more mileage out of your content investment too – it shouldn't just live in one place.
It might sound like a huge amount of effort (and yes, it can be), but there are tools available that are designed to help disseminate your content across multiple channels. Consider syndicating your content across social media, organic search, email marketing, and other distribution platforms. There are tools within each platform that can help make this easier. To give a few examples, Hootesuite can be an effective tool for distribution across multiple social media networks, and Outbrain can be useful for distributing your content across syndicated websites.
Examples of great content marketing
Where can you look for some content inspiration? Here are some examples of brands that are doing a great job:
Canva's Design School – Canva is a graphic design tool that is available with either free or paid features. Their design school is a great example of delivering value through content. Tutorials help users to improve their design skills while generating goodwill toward Canva for the tips.
Burger King on social media – The fast-food giant demonstrated some savvy community-mindedness during the pandemic with their "Order from McDonald's" campaign. It's a good example of "content for good" and tapping into a specific moment in time.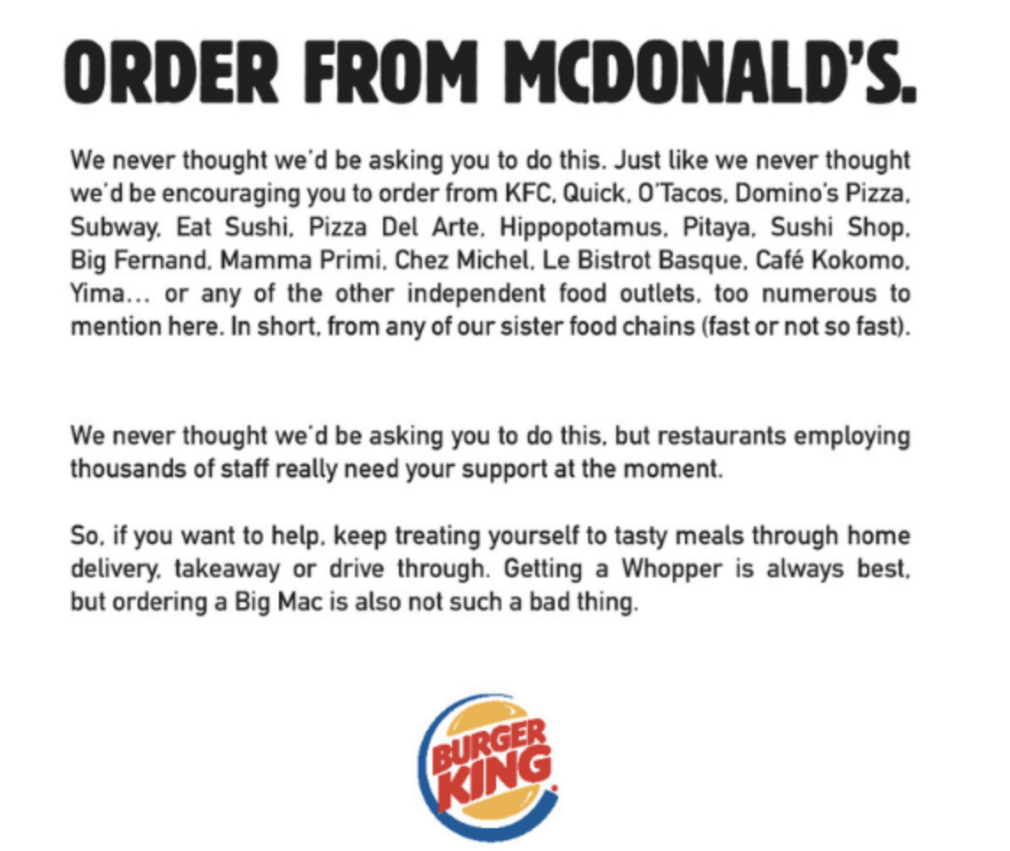 REI Uncommon Path blog – REI serves people who enjoy sports and the outdoors, alongside having concerns about their impact on the environment. The blog covers a wide range of topics, including segments for local areas that their stores cover.
Content distribution methods
Your content strategy should include a plan for distribution that is customized to suit the audience you are trying to reach. SEMRush highlights the three main categories of content distribution in their diagram below: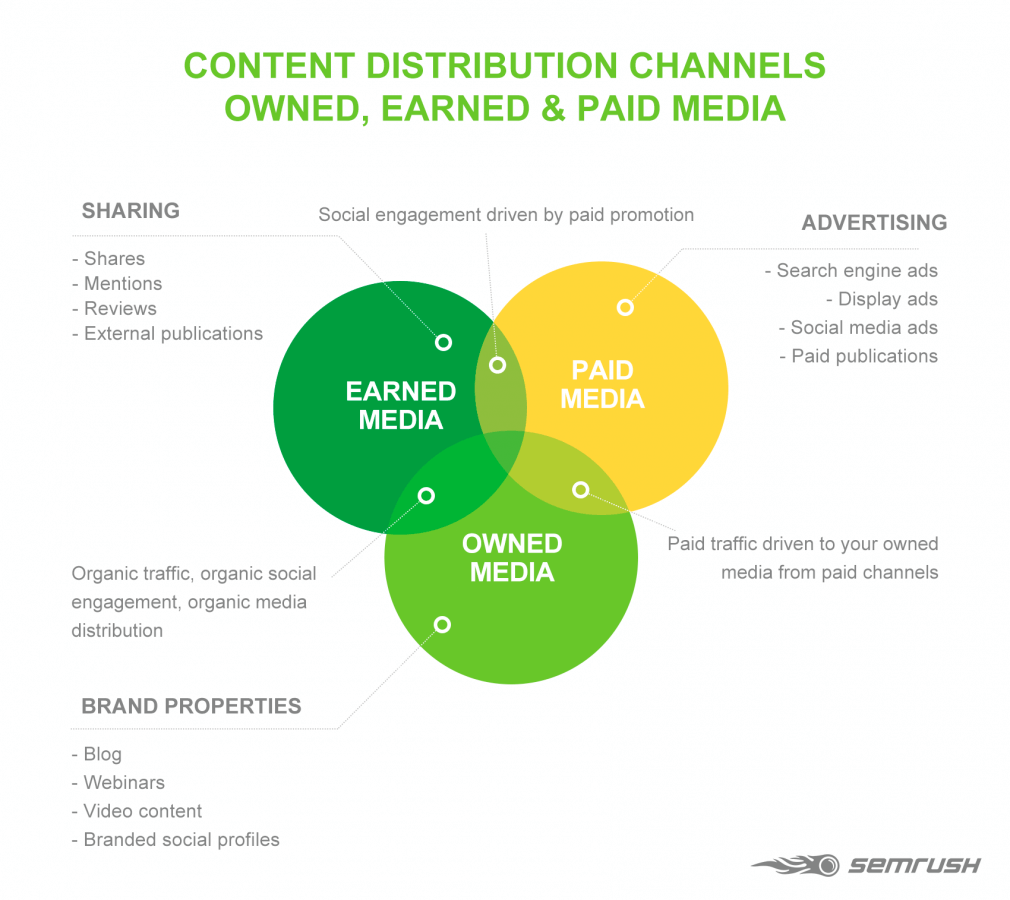 We already mentioned that aiming for multichannel content is a best practice: ideally, you should have a mix of the three main distribution categories, across the channels that your audience inhabits.
Content distribution is another activity to build into your calendar. Some of the most successful, consistent brands have created a procedure to follow for each piece of content that standardizes distribution activities. For example, day one might be to publish a blog and schedule three tweets and a Facebook post. Day two might involve posting an excerpt to LinkedIn or Medium and another couple of tweets (and so on).
Tools for social media scheduling such as Hootsuite and Buffer can help maintain consistency and ensure posts get published on time. We suggest choosing a tool you like and incorporating it into your workflow for content distribution.
Lastly, keep an eye on data from your various distribution channels to see where you get the most engagement. Some channels might not be worthwhile and you might want to adjust your strategy. Additionally, new channels are emerging all the time, so it may be worth trying new platforms. TikTok was just a small blip on the radar a couple of years ago. Now, many brands are using it to target a younger demographic.
Final thoughts
Content marketing is a very impactful way to reach your target audience and guide them through the buyer's journey. Inbound strategies tend to be a gentler, more comfortable way to pull customers in rather than pushing marketing out to them.
A key to success in content marketing is to have a solid content strategy in place. This strategy will help to guide all of your content and ensure it is designed to draw in your audience, deliver value, and help to drive the achievement of your business goals.
With many businesses still not availing themselves of a documented strategy, creating one could be your competitive advantage.
Paragon Digital Marketing helps marketers to develop and deliver on solid strategy. Send us a message today if you'd like to talk more about this topic!