If there's one global constant for all your marketing efforts, it's this: you must know your customer!
The entire premise of marketing is that you need to be able to appropriately engage with and encourage your target audience to take a specific action, whether it's making a purchase, attending an event, or donating to a cause.
You need to be able to tailor your messaging to reach the right people in the right places. Identifying your ideal customer and audience helps you define their needs and deliver a solution versus "throwing things at the wall and see what sticks" approach.
Our marketer's guide to determining your customers will walk you through the basic steps to build a better profile of your target audience or improve an existing one.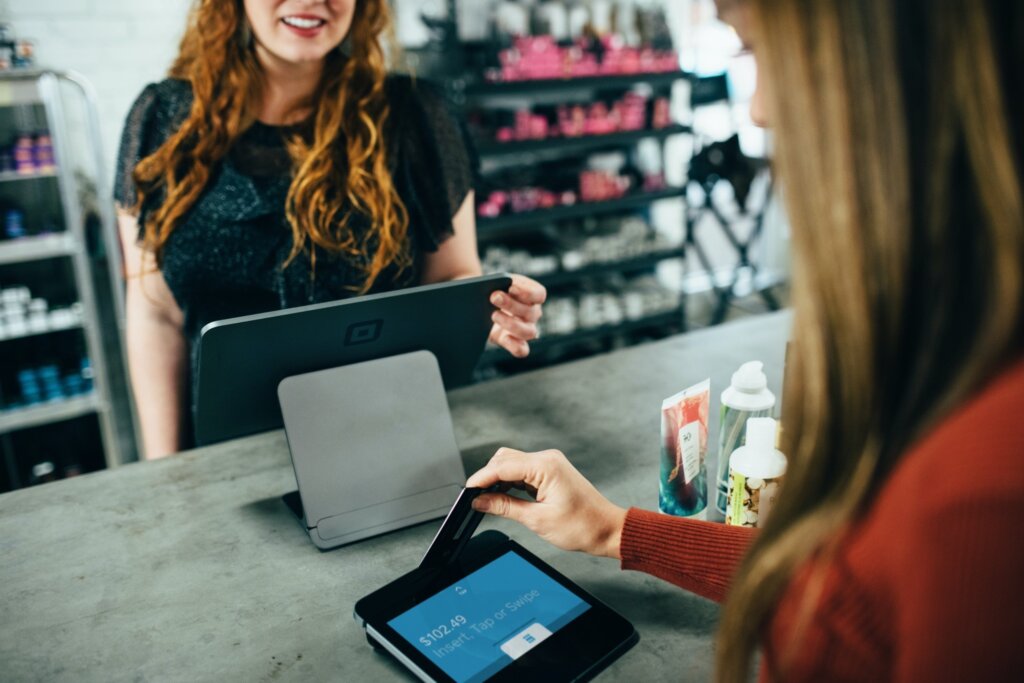 Why you need to identify your customer
Whenever you implement a new marketing initiative, you can either try to appeal to a broad group of people, or you can narrow it down to a specific target group. The first approach of trying to appeal to as many people as possible or a larger group is a common marketing mistake.
What happens when you create a campaign that tries to reach anyone and everyone? You can end up completely missing and engaging with no one. A game of darts is a good analogy. You have to aim those darts to hit the high numbers and bulls-eye or even just to hit the board at all. You won't be very popular with those around you if your darts fly off the board.
Another issue of broadly targeted campaigns is that they tend to not resonate with viewers. They can be confusing to the audience, and leave them wondering "Is this for me, or is it not? And what are they trying to say?" The most effective campaigns grab your audience's attention immediately and they easily understand that the product, post, advertisement, and content is for them.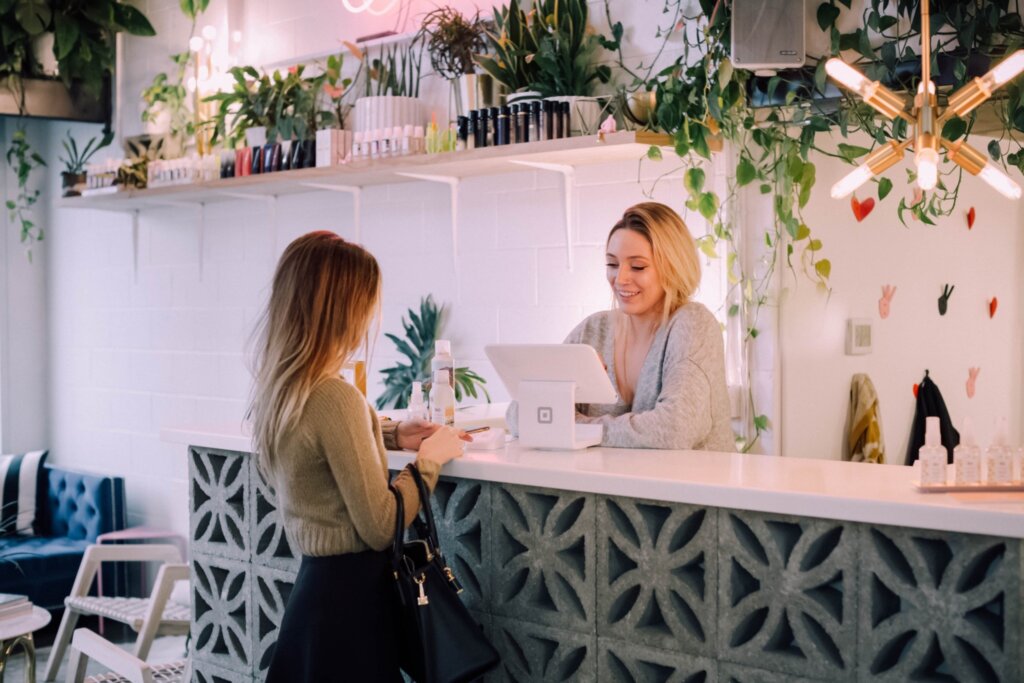 When you know your audience, you know what motivates them
Another common mistake that brands make is thinking they already know their audience without putting a lot of time into defining them. This often means that they miss important details, such as their true motivations for making a purchase.
Any target audience has key goals, challenges, problems, and motivations that get to the core of why they will or won't engage with a brand. When you take the time to do the work and truly understand, you can learn about obstacles they must overcome and define opportunities for your brand to deliver solutions.
Knowing your audience also means understanding their language. That is, how to speak directly with them in a way that will resonate best. When your campaigns speak the way they do to describe their lives (or problems in their lives), it helps to make them feel that your brand understands and cares.
Another powerful advantage of identifying your customer is that it helps you to build better products and services for them. You can look for specific needs you can meet that will make your brand a clear choice for them. You can also conduct proper keyword research and other SEO strategies to find not just phrases that draw traffic, but those that bring revenue. This is one way that marketing can collaborate with sales and product development to build a better business.
When you know your audience, you know what motivates them
Click To Tweet
Ideal customer profile vs. buyer persona
Your ideal customer profile (ICP) and your buyer personas can work well together. The ICP helps at a high level so that you can narrow down target audience, while the buyer persona helps you to produce more personalized content and messaging that will appeal to individual customers and address their challenges. Let's take a closer look:
Ideal customer profile
As it sounds, the ideal customer profile defines the perfect customer for your business. It describes all of the qualities that make them a good fit for your business. Your ideal customer profile should define the problems or challenges you are helping the customer to resolve, which helps to ensure you are aligned with customer needs and provides you with ideas for future products or services.
An ideal customer profile is a high-level filter used to determine if a lead is likely to become a customer. This means only the most qualified leads are followed up on by sales. This is also helpful if your lead follow-up process is time consuming and needs prioritization. You don't want salespeople spending too much time following up on leads that are not likely to result in a sale.
What goes into an ideal customer profile? It's usually made up of general characteristics such as:
Geography – Where are the people or businesses you work with located?
Product or service limitations –location, demographic, etc. For example, if you deliver fresh fish, you are naturally restricted by your capability to transport it quickly and keep it cold. This may knock out some potential customers.
Industry or customer type – You might work with businesses in certain industries or individuals that meet certain criteria. For example, a daycare works with parents who have preschool-aged children.
Budget, company size, and revenue – These are important things to consider. Perhaps you only work with businesses that have 50+ employees because these are who your product is best suited for. Or, you offer a product or service that requires customers to have a monthly minimum spend.
Consumption habits – How does the customer usually use the product or service?
Look at the ideal customer profile as a general overview, one that helps you to separate potential leads at first glance. This approach isn't intended to dive deeply into individual customers.
Buyer persona
In contrast to the ideal customer profile, buyer personas get much more granular about the individuals who are your customers. Some examples include the decision-makers or employees within a business that use the product and need to sell the solution internally as well.
A buyer persona is a representation of an individual customer. It's typical for a business to have at least two predominant buyer personas and up to five or six total personas. We recommend avoiding more than this as it becomes more difficult to determine your marketing strategy the more you add. For example, you might sell cars and have personas like "Busy Mom Brenda," "Retired Richard," "Empty Nest Erin" and "College Kid Chris." Each of these customers is at a distinctive life stage and will have different needs, goals, barriers and wants when car shopping.
Buyer personas are often used to help curate content that will appeal to those general profiles and to determine which resources are required from sales and other internal teams. For example, your busy parents might be shopping with kids in tow and might appreciate a play area to keep them occupied.
Your personas should, as a general rule, be based on the key problems or challenges of the individual persona. Sometimes businesses think they need to create a new persona to represent each job role represented by customers, but that's not the case. Focus on the key problems your personas are trying to solve.
Buyer personas go deeper than ideal customer profiles, so they're usually based on real data, both from your current customers and market research. It's helpful to look at your best customers and call them or send out a survey to request information. Your personas should have information including:
Customer demographics
Customer goals
Customer challenges
Customer motivators
One of the best practices for developing content and messaging for your targeting personas is to focus on their challenges and what motivates them. This will allow you to connect with them.
How to determine your ideal customer
There's more than one way to determine an ideal customer profile. For the sake of keeping it simple and actionable, we'll start by asking and answering the following questions:
Who are the people that identify with your brand? You might get this information from your current customer data, or by looking at analytics from Facebook or other channels you use. If you don't have this, reference who you believe the business has been built for.
Where are these people located? This might look different for brick-and-mortar businesses compared to online-only, or a mix of both.
Who can or can't use your product or service? It often helps to also build a picture of who is not your ideal customer. For example, a business that sells alcohol will naturally be limited by the legal age of consumption wherever they sell.
What industry do they work in or what do they do? If you sell something B2B, are you targeting certain sectors? For individuals, what sort of job do they have (e.g. blue-collar workers, etc.)?
What is their company size, budget, or revenue? You can use income for individuals in place of revenue. It's always important to look at this information, otherwise you could spend a lot of time following up with people or businesses who won't be able to afford your product or service.
What is their age and gender? These won't always be relevant, but for many businesses they are. If you own a clothing store targeted at teen girls, you're either marketing to them directly or to parents who might fund them.
What is their level of education? This is another one that may not always be relevant, but could be for your business.
From here, you can build a brief description of your ideal customer profile.
Examples of ideal customer profiles
ICPs tend to be brief, general descriptions of customers. Here are some examples:
Women aged 24 – 40 who live in San Francisco, have a master's degree, a monthly income of $6,000 – $10,000 per month, and are concerned with building their nest egg.
Small construction firms in the Sacramento area, with annual revenue of $1 million to $15 million, 10 – 30 employees, and need to manage payroll more effectively.
Men aged 50 – 70, working in a white-collar role, income of $6,000 to $10,000 per month and aim to have investment income after retirement.
See also the graphic below, from HubSpot: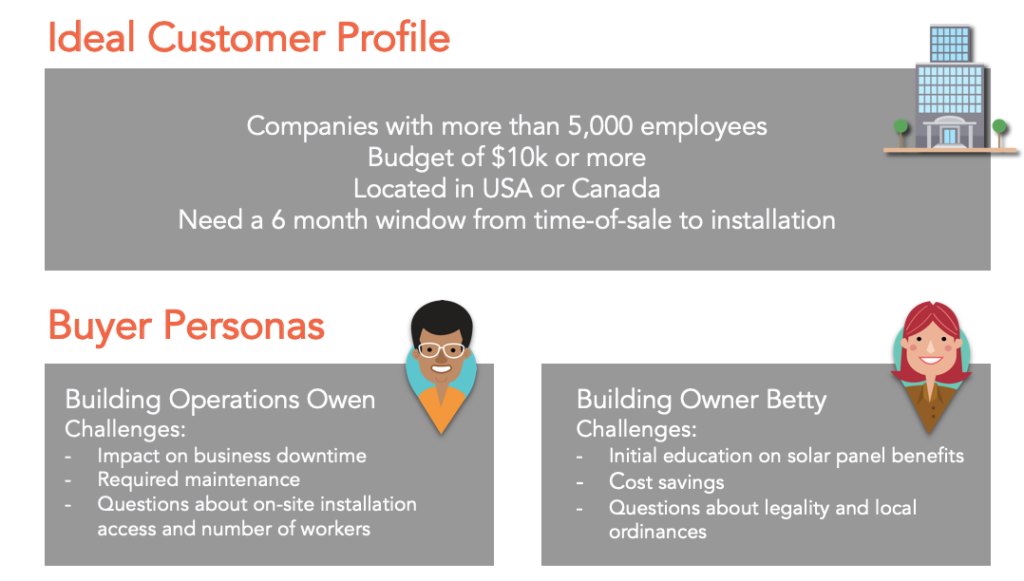 How to create buyer personas
A great place to begin with buyer personas is to ask questions that get more granular information, such as:
What are the buyer demographics? There is some overlap with the ICP, but this should include age, gender, income, location, etc.
What sort of lifestyle do they lead? For example, it's fair to say that some people live frugally, while on the opposite end some live extravagantly.
What are their values? For example, if you sell financial products – a belief of someone who is frugal might be "I live within my means."
What are their key problems or challenges?
How does your product or service solve those key problems or challenges? You can also look at your current best customers for this information. Ask them what problems your product or service is solving for them.
Where do they look to get their information? What do they read? Which are their trusted sources?
What are their hobbies or interests? This can be especially relevant for leisure and lifestyle related businesses.
What social networks are they engaged in?
How do they usually purchase the product or service that you sell? For example, are they online shoppers, do they like to shop in-store, or both?
What is their occupation or professional information? For example, if you sell marketing technology, your target customer might be in the marketing manager role, or they could be the CTO or another member of the C-Suite.
It's important to identify the person who decides if your business is even in contention, as well as the person who gets to make the final purchase decision. Sometimes these are different people and, in some case, they're the same person.
Tools for your buyer personas
Here are some tools to help you build your buyer personas:
How to use data to develop buyer personas
A big part of building your buyer personas is to understand how to best reach these people. We recommend that you use different types of data to help. For example, there are market research firms that regularly compile data on a range of topics. SBA provides a comprehensive list of market research firms and the areas they specialize in, including demographic information, consumer data, business data, and more.
Use data to better understand customer preferences, habits, and trends. You can also find out where to reach them and how they use various channels. Companies like Pew Research compile regular data on things like online behavior. You can find the user demographics for social media platforms, mobile usage, e-commerce, and more.
Data can help you to answer questions like:
Where will I find these people?
How do they use this channel?
What are their big concerns?
What are their expectations of a business or service like mine?
Examples of customer personas
Below are some examples of customer personas. As you can see, there is no one way to create them: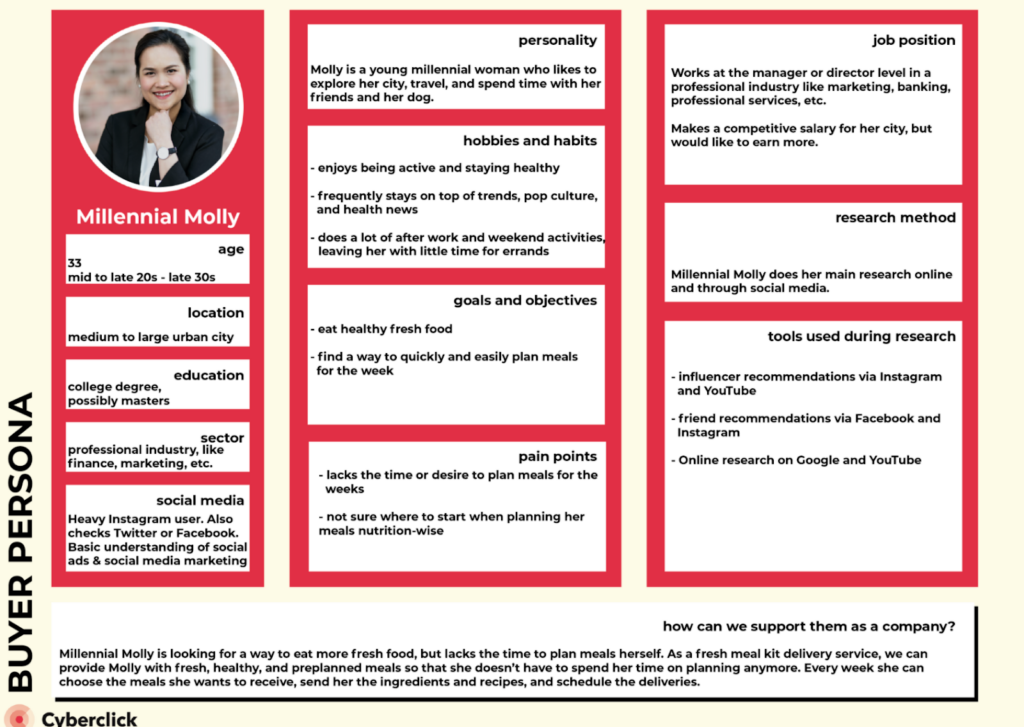 Source: Cyberclick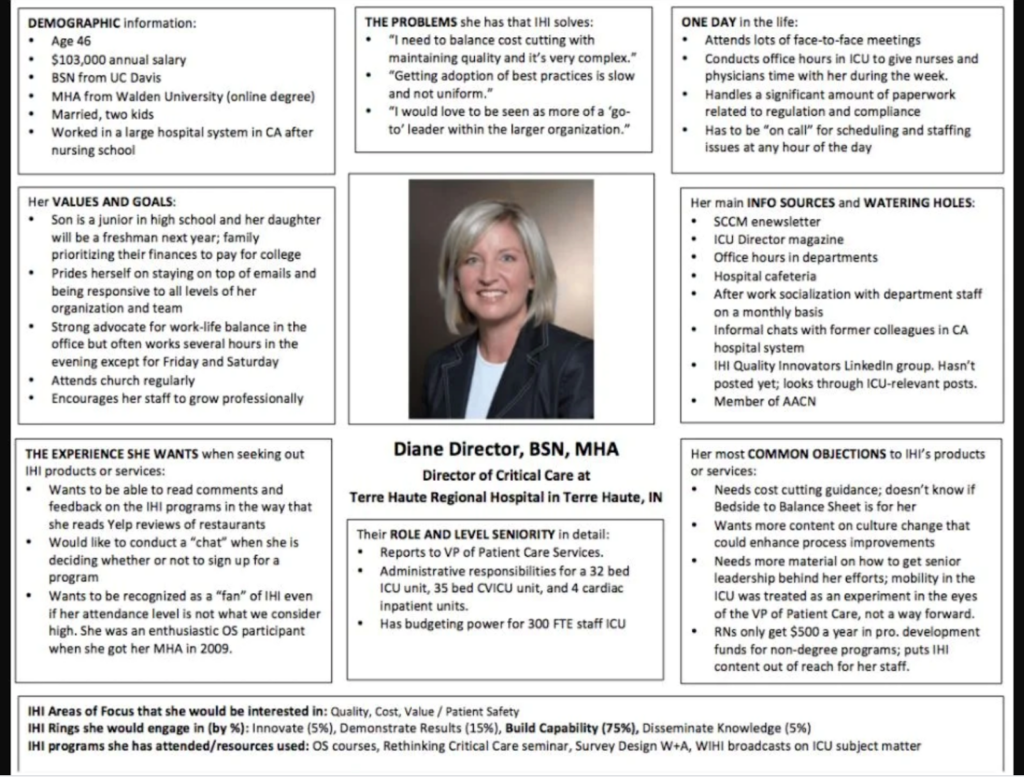 Source: Product Marketing Alliance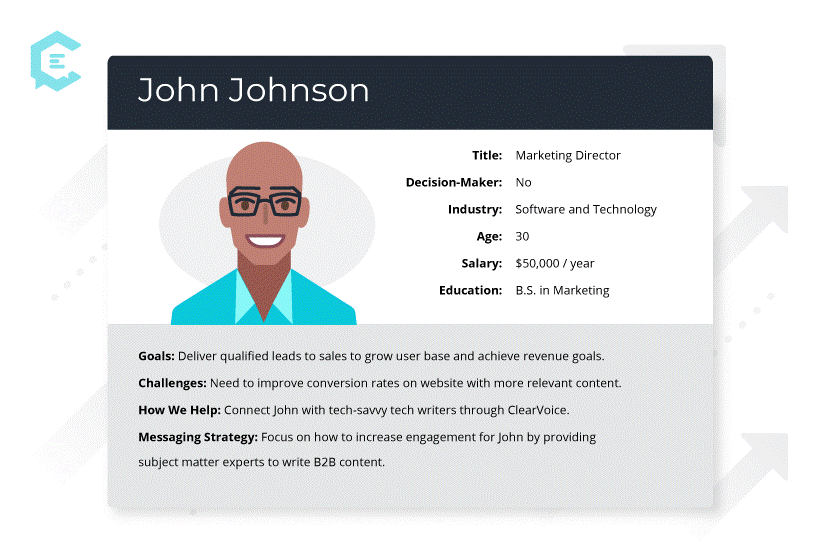 Source: Clearvoice
What's the next step?
Once you've created your ideal customer profile and buyer personas, it's time to put them to work. These tools will ensure a more targeted marketing approach, which can help to avoid throwing darts like we talked about earlier.
Use your ICP to sift through leads at a high level. If your business has a lengthy sales process, this can be especially helpful because it will narrow your focus. Use your buyer personas to craft content that will speak to the hearts and minds of your customers. Learn their voice and engage directly with them.
Lastly (and equally important), figure out what makes your business or organization unique to your target customers. What is it that draws them in personally? Figure that out and you'll have a huge competitive advantage.
---