Washington National Insurance Company
Washington National Gets a New Digital Presence that Converts in Two Languages
https://washingtonnational.com/
Washington National, a long time Paragon Digital Marketing client, has been providing insurance products that help Americans protect themselves from the financial hardship that so often comes with critical illness, accidents and loss of life for over 100 years. Their recent growth in Spanish speaking markets introduced an opportunity to better serve this customer segment.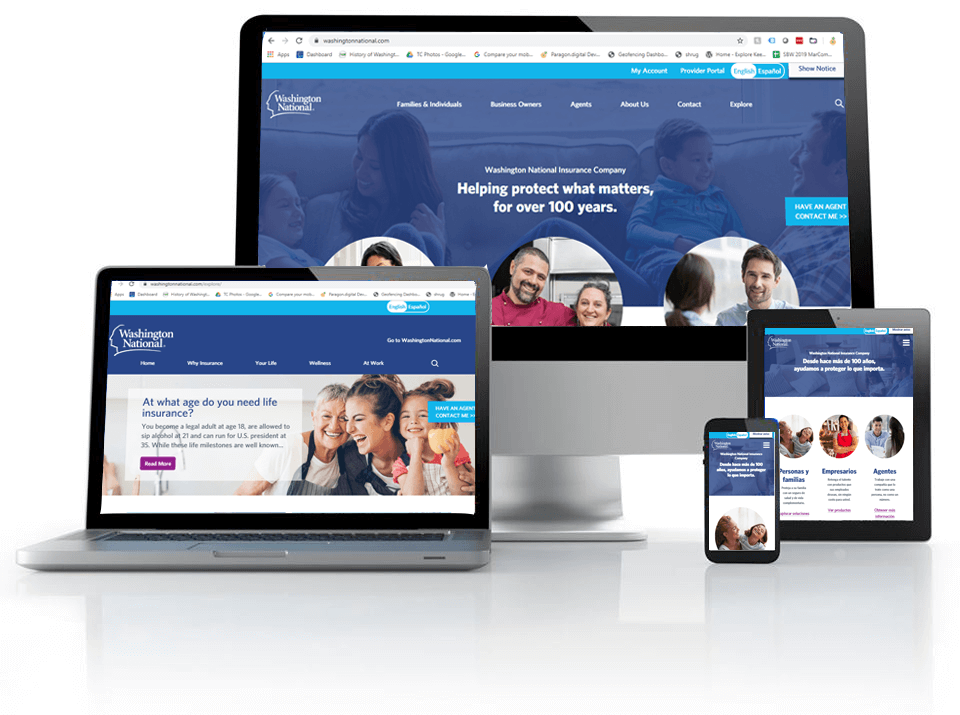 Decrease in bounce rate in first 3 months
Growth in traffic in first 6 months
Increase in website leads in first 3 months
Challenge
Washington National struggled with an outdated website, difficulty tracking and generating new leads from the website and managing user-generated reviews, and the inability to easily add new content to support their emerging markets. Calls to Action were not easily accessible to visitors leading to a low volume of leads. Digital ad campaigns were not providing an experience that resonated with the correct audiences. The number of reviews on external websites continued to grow with no internal processes to monitor or respond. Additionally, a new push to market to Puerto Rico found the lack of a Spanish language website was severely limiting success.
Strategy
It was first determined there was a need for a new website to better serve users, and better offer paths to contact Washington National for more information. Regular content updates through a blog would keep current customers informed and provide search engine optimization value. The site would need to be easily managed by Washington National, and adapted to various digital advertising initiatives. Finally serving their Spanish speaking customers needed to be addressed.
Results
Washington National's in-house design team provided the vision for Paragon to create a new custom website. The resulting marketing-ready website introduces new, easy to find conversion points throughout and contact forms that are integrated with Salesforce and track the source of leads back to marketing efforts. Staff can easily update and create new pages, and a blog was developed for regular fresh content additions. A Spanish version of the site was launched shortly after the English one.
New Facebook and Google ad campaigns were developed, pushing targeted traffic to custom landing pages for lead generation. Paragon set up review monitoring and processes to enable Washington National's team to receive review notifications and respond quickly and directly.
Working with the Paragon team members has been a wonderful working experience. Together we've developed multiple websites including a Spanish site, partnered on reputation management initiatives, social and so much more. The entire team is very knowledgeable and responsive, and they feel like a part of our corporate team which is so important. When you're partnered with a team this good, you're very appreciative of the consistent collaboration.
Washington National