Trends in Digital Advertising
While marketing trends usually happen independently of economic factors, that hasn't been the case recently. One of the biggest influences on marketing and digital advertising has been the chaotic impact of COVID-19.
You might be among the fortunate businesses that have continued to fare relatively well, but many marketers are now finding themselves with tightened budgets and an imperative to find low or no-cost ways to advertise.
Given the landscape, here are a few current trends and their potential impacts:
#1. Digital marketing spend spread across multiple channels
One trend identified by Criteo is that marketers are spreading their advertising spend across more channels in 2021. The table below from their report shows several are likely to increase spending across different digital channels, including advertising on retail websites and apps.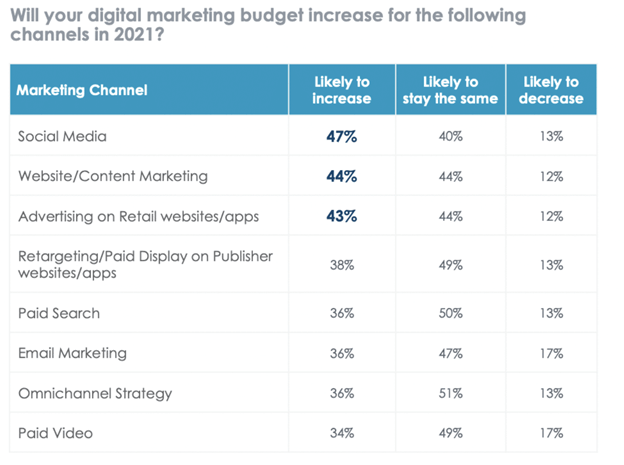 Additionally, marketers are considering brand-safe alternatives for advertising, particularly with growing awareness of how businesses are being perceived on certain platforms. It's fair to say that big players such as Facebook have attracted a fair share of controversy over content publishing rules, privacy, and more. Social media is still highly relevant, however marketers are looking to add and diversify digital platforms to test reach and engagement on more channels than before.
This finding is also reflected in the Postclick 2021 Digital Advertising Trends Report, which found that the most successful digital marketers: "leverage more platforms, optimize for conversions, and earn larger budget increases." Among those who reported that their digital marketing efforts were "very successful", the top platforms used were Facebook (89%), Google (89%), Instagram (83%) and YouTube (60%). Newer platforms like TikTok are still at the lower end of advertising adoption among those successful teams (in this study, TikTok was utilized by 15%).
The most successful digital marketers leverage a range of platforms
Click To Tweet
#2. Changing adoption of social media networks
One of the outcomes of the pandemic was higher utilization of social networks to maintain connections during periods of isolation. For marketers, being aware of the changing face of user adoption of social platforms is important. For example, TikTok has seen unprecedented growth, with app visitation growing past 123% in North America.
Some may think that "it's just the kids" but in some cases, users include parents, grandparents and other generations. TikTok influencers have driven millions of dollars in sales and #TikTokMadeMeBuyIt is a commonly used hashtag.
Other social platforms have also seen a surge with increased ecommerce transactions. Sales and marketing through Facebook represent significant marketing results.
Will growth in these platforms continue? It's unlikely to be sustainable at 2020 levels, but it's still likely that consumers will be spending more time on social media than they did before the pandemic.
#3. External marketing partners play a vital role
The Postclick 2021 Digital Advertising Trends Report found that both in-house teams and their external marketing partners are vital to digital advertising success in 2021. They state:
"… before 2020, companies had already begun relying more on specialized agencies, tech-enabled services and independent contractors to get work done. The pandemic accelerated this trend. As a result, over half of surveyed marketers (55%) now plan to increase their investment in agencies or tech-enabled services in 2021."
External agencies are providing marketing teams with access to specialized digital advertising skills that they don't necessarily have in-house. Agencies offer agile support and skills and can be a great partner to help define goals, drive strategies and deliver results
#4. Purpose-driven missions
Businesses that have purposeful missions in addition to their core business functions are nothing new, however as Social Media Today shares, "now more than ever, brands are having to dig deep to find out how to flourish in turbulent times."
The most successful brands make sincere connections with their customers, their values, and their communities. They are "deeply attuned to why they exist and who they are built to serve." Delivering content and messaging that is useful and genuine helps to establish and grow meaningful engagement with your customers.
Final thoughts
Marketers should familiarize themselves with the recent changes on platforms they utilize and how they could potentially impact their campaigns. Google PPC and social media advertising (especially Facebook) remain big players in the digital advertising scene and should be reviewed carefully.
If your company needs help with existing efforts or if you're exploring the benefits of adding digital advertising to your mix, we'd love to chat with you. Contact us today to get started.