Key Digital Marketing Data & Strategies for 2021
While the COVID-19 pandemic has impacted overall sales and revenue for a large number of companies, a Criteo survey of over 1,000 marketers found that website sales were up. In e-commerce specifically, sales grew 14% globally. Many businesses are finding new ways to operate and they're relying on their marketers to help them draw in business in new ways. For example, we now have many traditional stores or services that are putting in place alternative, digital-based options for their customers. More restaurants are offering online orders for pickup or delivery, professional services such as law firms and financial experts are video-conferencing with clients, and local shops are discovering new ways they can sell products online.
According to the Criteo survey, seven out of 10 marketers say their function became more important during the pandemic. This includes an expectation to drive results through every stage of the marketing funnel, from acquisition to retention.
There are now more consumers online than ever before, including many groups who perhaps weren't traditionally as active online before the pandemic.
The United States is expecting to have 300 million online shoppers in 2021 – around 91% of the population. For marketers, this means taking a close look at defining your digital audience, customer personas, and buyer journeys to inform your future strategy. With the shifts and expansion of online demographics, you may find differences in who your digital audience is in 2021 compared to what you previously knew
Data privacy impacts advertisers
A key factor marketers need to be aware of is the tightening of rules and expectations around consumer privacy and protection.
Smart Insights reported that 86% of consumers are concerned with their data privacy. Below is the list of reasons people give for when they are willing to share their data: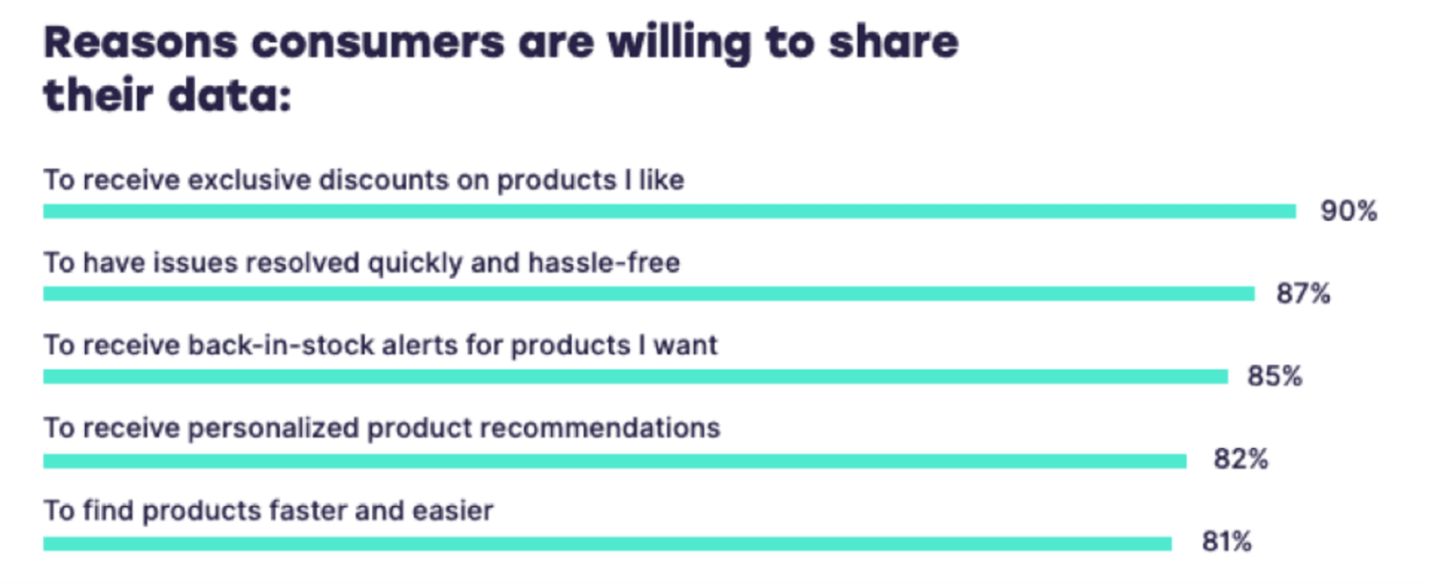 GDPR defined strict rules for Europe in 2018, and the U.S. followed with rules allowing users to opt-out of cookies on websites. One major update in development now is Apple's iOS14. This will require all apps to ask for permission from users before collecting and sharing any data. Apple's official stance is that privacy is a user right, and users must be able to opt-out of tracking and targeting. If someone chooses to opt-out, their IDFA (Identification for Advertisers) would show up as all zeros.
A possible future without cookies, or tracking technology that digital advertisers currently use to target audiences, is being prepared for with the rollout of GA4 (Google Analytics 4). Artificial intelligence is also being explored as a strategy to fill in data gaps. (Download our guide to GA4 here).
Social and environmental issues
It's well-known that people identify with and want to support companies that share their values. In 2021, diversity, inclusion, and environmental issues remain important
A cultural shift toward inclusivity is directly impacting buyer behavior, as well, according to an Accenture study. 41% of shoppers in the study are moving away from brands that don't reflect their views.
NielsenIQ found that 81% of consumers feel strongly that companies should help improve the environment. Many brands have made shifts into the area of sustainability, and highlighting these efforts helps to build engagement and consumer loyalty
Brands are also responding to issues by initiating and getting directly involved in conversations on social media and other channels. Looking at your brand and values and considering how to share these beliefs and actions with your audiences may be worth considering.
What's working in 2021?
As usual in the world of social media, a lot is moving and changing. Here are some advertising strategies to consider in 2021:
Video is continuing to grow. 2020 saw a huge increase in the number of people watching live streams on Facebook. There was a marked surge in influencer content across platforms, which further drove purchasing behavior. TikTok is a good example, with many people buying products shown by influencers on the platform.
Instagram introduced Instagram Reels which offers the opportunity for short-form video marketing in 15 or 30-second reels. The feature offers tools to improve the quality and viewability of your reels, including adding music, text, and a green screen effect. The green screen allows you to share photos, screenshots, or videos in your reel.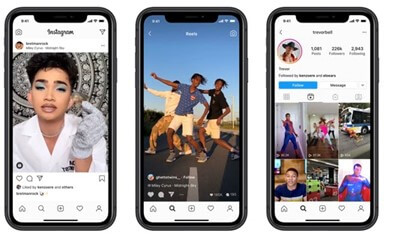 Video can help to build audience trust quickly by delivering content that features real people. Users often look for a human connection to validate that a brand is trustworthy and video is a great medium to share the human side of your business.
Brick-and-mortar businesses CAN do social media – and 2020 proved it. Pandemic restrictions have been hard on businesses, but many are doing an excellent job with harnessing social media to continue to sell their products and services.
Facebook and Instagram began to integrate in-app purchasing into their platforms, which businesses can sign up for. This enables customers to click on a purchase option from a post, reducing the number of steps it would otherwise take to make a purchase.
All sorts of brick-and-mortar businesses have increased their social media marketing efforts as the pandemic isolation requirements made it harder to do business traditionally. In many cases, they're finding customers appreciate the opportunity for contactless shopping. It provides convenience for people to browse a feed and select items to buy. Services like this will probably have longevity well after the pandemic.
A few tips to consider:

Survey your audience to help determine their true needs and wants.
Focus on delivering an excellent user experience. People will give up on digital methods of shopping if it's not user-friendly. Test it out and fine-tune to get rid of as much friction as possible.
Collect contact information from customers to ensure you can stay in touch.

Tap into user-generated content (UGC). UGC is nothing new, but during a period where people are looking for companies they can trust, consumers find this sort of content more trustworthy than traditional advertising. Around 90% of consumers say UGC has some influence over their purchasing decisions.
People want to see real-life experiences as social proof that other people are using and enjoying products and services. That doesn't mean you necessarily need celebrity or influencer content. As demonstrated by TikTok, which began with and still features everyday people, users like to see regular people like themselves interacting with products and brands.
Instagram and Facebook are also good platform choices to showcase UGC and sponsored posts may be a good fit for your business.
---
We hope this information saves you time and gives you a great starting point when considering and applying digital marketing strategies that make the most sense for your business goals. If you or your team needs help defining, implementing, and delivering digital advertising, we're here to help. Contact us today to get started.