Your Last Minute 2012 Holiday Marketing Cheat Sheet
Can it really be that Thanksgiving is already just a few days away? You've probably already begun implementing your holiday marketing strategy, but if you haven't don't panic just yet! According to shop.org, 33% of consumers will still be shopping in the last two weeks of December. You still have time.
It's the busiest time of year for many businesses and perhaps you're already tearing your hair out! Here's to making life a little bit easier with this handy dandy cheat sheet of the most important holiday marketing statistics, dates, and techniques for 2012:
The 2012 Holiday Marketing Cheat Sheet

Looking for some last minute strategies?
Try recycling what worked from last year. You probably already have a good idea of what's worked for you in the past. Get these promotions started first before you try experimenting with others.
Create an online gallery of gifts on your website. It'll help direct customers to the hottest holiday shopping items. Try creating a couple of categories ("Gifts for Mom", "Stocking Stuffers", etc.) for a quick and easy shopping experience.
Offer a charity donation with purchase. Pick your favorite charity and let customers take part in spreading the holiday cheer.
Don't forget the gift certificates. It'll keep people visiting your business into the new year, and hopefully generate some new referrals.
Try a gift package. It's always better with a bow on top- literally. Try assembling a basket or box of complimentary products. Add some seasonal goodies and don't forget the trimmings!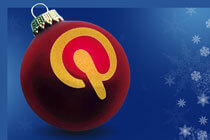 ---
Was this helpful?
Be sure not to miss our next post by signing up for our newsletter! Subscribe