Now that we've looked at some of the main differences between Universal Analytics and Google Analytics 4, let's look in more detail at some of the new key features:
Machine learning expands to new levels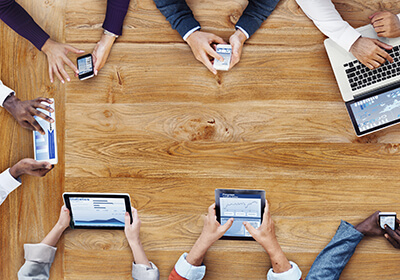 Machine learning powered insights have been available in Universal Analytics for quite some time, but Google Analytics 4 takes it to a new level. In a sense, it represents the future of Google Analytics, with the addition of new analysis technology without requiring additional complex tracking code edits.
New insights and predictions from the AI behind GA4 can help marketers by automatically providing alerts for data trends. For example, you might receive an alert if the predictions show a surge in demand for a product that you sell.
The new AI technology is also very useful for predicting other sorts of outcomes that are important to marketers. For example, you might get a prediction of churn rates, or you might get customer segment-specific predictions to help you hone your strategies. An example could include a prediction for an uplift in revenue from a key segment. You could then focus on actions that target that high-value audience.
Trend Watch: AI For Rapid Creative Testing

Running multiple versions of your creative content has long been a best practice for marketers. This type of A/B testing allows you to put your content in front of a live audience and see what they respond to in real-time. The time needed to create multiple versions is often a hindrance however, and it can be tempting to just come up with one iteration and roll with it.

The good news is there's a new ally in the fight against stale content – Artificial Intelligence! Emerging tools such as anyword allow you to enter basic information such as a product name, description and keywords and then the AI will analyze it and generate multiple marketing copy variations for you. You can now share the load when it comes to brainstorming new ideas, allowing you to rapidly test content in the never-ending quest for increased conversion rates.
Reporting looks at the customer lifecycle
Reports are organized differently in Google Analytics 4. They aim to give you a more complete view of how customers are engaging with your business across different channels and devices.
Another improvement is that you can now allocate a user with an ID, or enable Google signals to deduplicate users across devices. This gives you better reporting and ad targeting abilities.
Deeper audience integration with Google Ads
How valuable is it to you to be able to build and maintain more in-depth audience lists? What if you could see exactly what actions people have taken so that you can avoid showing them unnecessary remarketing ads?
That's exactly what you can do with Google Analytics 4. Say a person has qualified for your Google Ads audience due to an action they've taken. You can automatically have them removed from the list for that campaign once they've taken an action that achieves the campaign goal. In the past, this required creating, configuring, and maintaining two lists: one list for the target and a block list for the goal completion. This new functionality can significantly help to streamline the process and prevent unnecessary ad spend.
Funnels for everyone
As a marketer, you recognize the value in utilizing funnels to identify, target and deliver relevant content at different stages of your customer's journey. Funnels in Universal Analytics have always taken some serious forethought to be set up correctly. These funnels recorded session steps through page views and were never able to look back at historic data.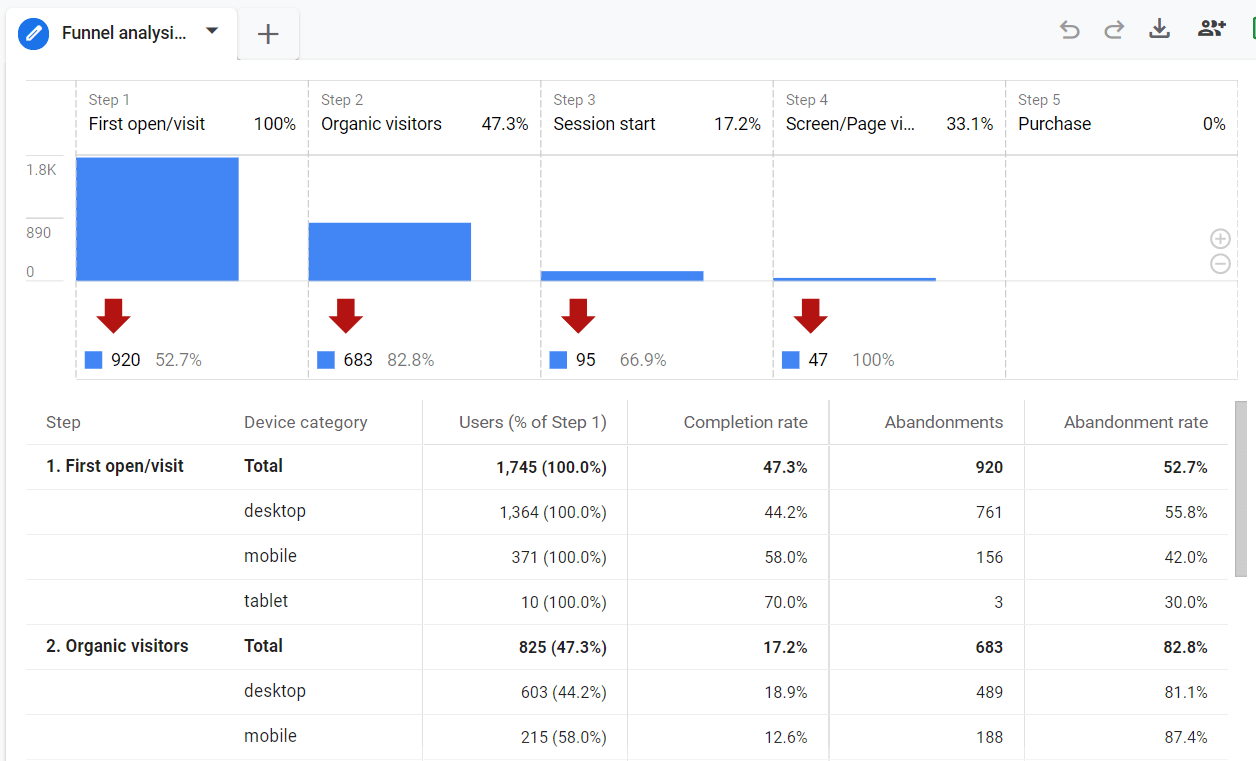 GA4 has made a pretty dramatic shift in how it approaches funnels. Using funnel analysis, marketers can now create new funnels and test how they look on the fly. Old data will be processed immediately and let you identify new areas you may want to add into a funnel. Also, rather than only looking at page views within a session, the funnel analysis tool allows you to view segments and steps together. In the above funnel we can see the impact of a funnel that starts with all visitors, and then looks at organic search visitors as the next step (return visitors only), and then continues from there. Rather than having to look at the funnel as a whole with a segment (as we do in GA3), we can now see a segment as a single step.
Export to BigQuery
This is another new feature that was previously only available to GA360 users. Now, with Google Analytics 4, all users can export data directly to BigQuery.
Why is this important for marketers? The integration allows you to get raw event data directly into a data warehouse, giving you the ability to create all sorts of customizations to suit your business. Having your data in BigQuery gives you the ability to slice and dice your data in infinite ways and integrate the data directly into dashboards and your own reporting platforms.
Codeless event tracking
Setting up code or adding event tracking in Google Tag Manager can be time-consuming and challenging for marketers. GA4 offers you another way. Expanded codeless features mean you can track and measure onsite and in-app actions that you need to know about. Nearly all typical events and variables on the site: css selectors, scrolling, clicks, form submits, etc., are already being recorded as a default feature of the tagging. It is a much simpler task to now go into the reporting and simply identify which events to record, without the need for additional coding.
---
Up Next: Key Reports
---