The release of Google Analytics 4 brings a variety of questions for marketers.

For example:
Do I have to switch to Google Analytics 4?
Should I switch to GA4?
How do I get GA4?
Where can I get more information on GA4 and how to use it?
Do I have to switch to Google Analytics 4? No, it is not a requirement at this time. When creating a new Google Analytics account and profile, Google is recommending GA4 as the default. We're interpreting this as their commitment to getting users to adopt it quickly, however, they're also aware of the development in progress and current limitations, especially as it applies to e-commerce sites and transactional reporting. As of this writing, there is no planned switchover date, and you are still able to create and support Universal Analytics accounts just as you do today.
Should I switch my reporting to Google Analytics 4? Not yet. We recommend creating a new GA4 account to run in parallel to your current reporting on Universal Analytics. This will give you the opportunity to build history in the new GA4 platform, get familiar with the tools and reports, and test things out with the event-centric methodology, while still utilizing Universal Analytics reporting and data.
For now, Universal Analytics is still running and is unlikely to be shut down any time soon. While it introduces a lot of great new features, Google Analytics 4 is still very much in its infancy. There are still features to be added to make it a complete replacement for Universal Analytics, and bugs are being worked out. Google hasn't given a timeline but will spend the next few years developing everything out in GA4.
If you should need to create a new account or property for a new site, then you would be best served to create analytics for both GA3 and GA4. The age of your website doesn't matter and gradually switching will allow you to fully access reports and data and become familiar in both platforms.
How do I get GA4? It's pretty easy to create a Google Analytics 4 account. If you're setting up Google Analytics for a new site or app you'll automatically be asked if you want GA4. You can choose to set up Universal Analytics first if you prefer by selecting the web option at the "what do you want to measure?" step. If you do this, you can choose to create a GA4 property later, from within your Universal Analytics property.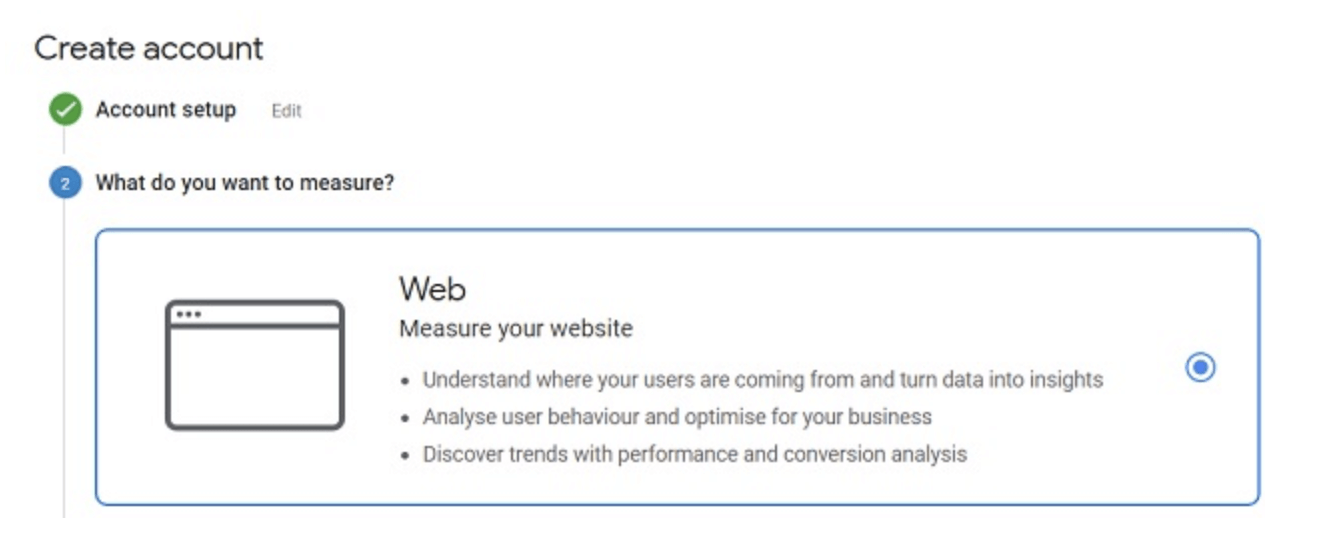 If you're going to set up a Google Analytics 4 property alongside a new or existing Universal Analytics account, here are the steps:
Sign into the Analytics account with your website's existing property.
Go to the Admin section.
In the Account column, select the account in which you want to create the GA4 property.
In the Property column, select the desired Universal Analytics property for your site.
If the option is available you can select "GA4 Setup Assistant" and then follow the directions. However, in some cases, this Setup Assistant option may not be available.
If this is the case, select the blue "Create property" button and then follow the steps to create a new property for "Web + App." This creates a new GA4 property by default.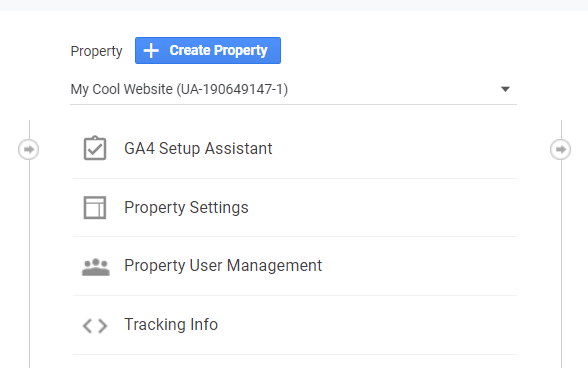 Following these steps, you should now have a new GA4 property. There are still a couple of things to be done to enable data collection:
Within your GA4 property, navigate to Admin, Property Settings, and select Data Streams.
Select "add a stream" (e.g. "web" for your website)
Enter the correct domain, give it a name, and click "Create stream."
For more information check our step-by-step guide to Setting up Google Analytics 4 Using Google Tag Manager.
---
Up Next: Need help with Google Analytics 4?
---