Internships: Transforming Students into Professionals
More than the designated Errand Runner
The word "Internship" originally made me think of a 20-something fetching coffees for big-wigs; but at Paragon, the interns work with a different kind of Java. To my pleasant surprise, interns can be found writing code for a website build, drafting posts for social media, or offering insights during a client meeting. Experiences that are impossible to manufacture in school.
As Elizabeth Trovall of The Intern Group writes:
"University learning can only take you so far. You really only start to sharpen and improve the professional skills related to your career field on the job. As an intern, you gain practical and pragmatic experience and learn how to do your job well, rather than simply reading about the theory behind it."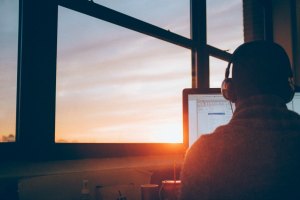 Internships offer the career development that traditional summer jobs don't. This opportunity is more than a resume booster. It's a boost in personal development and real-life skills in a constantly changing field. Also, it's a chance to ensure you're headed down the right career path. Best of all, it's a chance to put new knowledge to the test.
According to Zach Luse, founder of Paragon Digital Marketing, "Developing a stronger more modern workforce in our area is key to our continued growth. Internships have been a great way for Paragon to attract and retain young professionals in New Hampshire while giving them valuable skills that can't be taught in a classroom. Our interns have done important projects like build websites for nonprofits, create and improve internal processes and develop marketing campaigns for clients. Multiple interns have turned into great Paragon team members after graduation."
The Internship Positions
Paragon's interns dive into every nook and cranny of the digital marketing world with an expert team to guide them. Interns go through multiple industry standard training programs to understand how to achieve success in the digital landscape. There are typically three different intern positions; each with different responsibilities to allow them to gain the most out of their individual experiences.
Site builder interns work with Paragon Digital's web developing experts to build websites using Joomla, Drupal, and WordPress for a diverse clientele. They hone their HTML and CSS skills beyond that of their classmates. Site builders have the opportunity to help build responsive websites from the ground up, and launch them into action.
Social media marketing interns use their creative skills to construct posts on various platforms for actual clients with guidance from Paragon's seasoned staff. Once posted, interns can monitor the effectiveness of the content they helped create. They use tools such as Buffer, Meltwater or Hootsuite for scheduling and analytic tracking while using Canva to create eye-catching posts. This allows interns a deeper comprehension of the inner workings of different social media platforms.
Digital marketing interns gain firsthand experience with AdWords, Analytics, and SEO methods, while fine-tuning their writing, presenting and reporting skills. They constantly get the chance to implement their new-found abilities on live client campaigns. They aren't hovering around observing others while taking notes; they're doing it themselves with professional guidance and supervision.
What's it like as an Intern?
Many interns will work hand in hand with Greg Elizondo, head of client services, who helps them achieve a professional level of independence while guiding them through daily tasks and expectations. In regards to the tasks and responsibilities of interns, Greg states:
"Typical tasks for interns can run the gamut from day-to-day administrative tasks, all the way up to strategic development for our clients. Generally speaking, the more responsibility, the better!"
Personally, the digital marketing internship has allowed me to learn about a complex career by getting my hands dirty rather than sticking my nose into a book. During my first three weeks at Paragon, I have already begun drafting content. I've been certified in Analytics and AdWords and I'm learning to use other tools from industry leaders like Moz. I've sat in on client calls and meetings and I've given my input and effort towards live customer projects. I'm excited to see what projects the rest of the summer brings. From creating blog posts and social media campaigns, to drafting effective ads and tracking conversion rates, it promises to be an eventful one.
As a Paragon intern, there are no errands to run or papers to file. You become a member of the team from day one. The expectations for interns are no different than that of every other employee. We take joy in having the freedom to make ourselves our own cup of java when needed, and our interns share the same luxury.
To learn more about Paragon's current openings, subscribe to our job and internship newsletter here.